AI Learning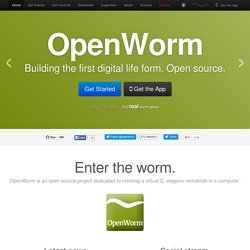 Get the App OpenWorm Building the first digital life form. Open source. Get Started Get the App
OpenWorm
Evolving AI: Lt. Data Will Be Born From Artificial Worms - Stephen Larson
Ping Pong Robot Learns by Doing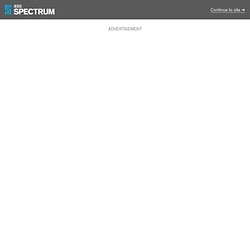 Katharina Mülling (holding the emergency stop switch), Jan Peters, and Jens Kober monitor their ping pong robot practicing against a ball gun. All photos: Axel Griesch/MPG, München Despite all the recent advances in robotics, one fundamental task appears to remain as hard as ever: robot programming. To be sure, robot programming in industrial settings has evolved significantly, from a series of mechanical switches to advanced programming languages and teach-pendant devices for trajectory planning.
MPI Overview Video
The 6th annual ACM/IEEE Conference on Human-Robot Interaction just ended in Switzerland this week, and Georgia Tech is excited to share three of their presentations showcasing the latest research in how humans and robots relate to each other. Let's start from the top: How Can Robots Get Our Attention? Humans rely on lots of fairly abstract social conventions when we communicate, and most of them are things that we don't even think about, like gaze direction and body orientation. Georgia Tech is using their robot, Simon, to not just try to interact with humans in the same ways that humans interact with each other, but also to figure out how to tell when a human is directing one of these abstract social conventions at the robot.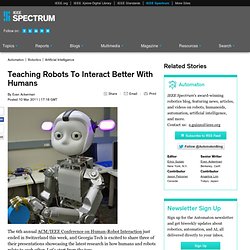 Teaching Robots To Interact Better With Humans
Teaching Robots to Move Like Humans
How Do People Respond to Being Touched by a Robot?
How Can Robots Get Our Attention?
PlayMate - Activities
Robotics #2: Baby Robot with Biomimetic Body CB2
Child-robot With Biomimetic Body (CB2)