Robot mind
Robots with systems which use some form of thought processes .Such as Fuzzy logic.Or controled by a human mind . mirlen101 Oct 23
@ClearEnigma: agreed. but then again arms, ankles and toes would replicate a normal human, but what about humans with prosthetic legs? They have devices extremely similar to what that robot has for its own legs. Its entirely possible to run with those legs and no arms. @ClearEnigma: Or, better yet, giant swords. Or drills. Or lasers.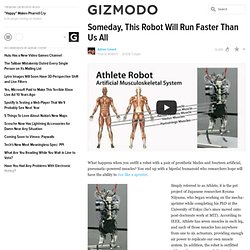 Someday, This Robot Will Run Faster Than Us All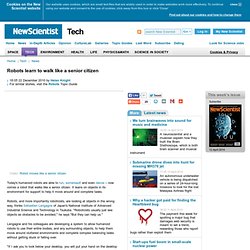 Video: Robot moves like a senior citizen Today's humanoid robots are able to run, somersault and even dance – now comes a robot that walks like a senior citizen. It leans on objects in its environment for support to help it move around and complete tasks.
Robots learn to walk like a senior citizen - tech - 22 December 2010
Kinect Hack Makes Robot Mimic Its Master - PCWorld
WowWee Rovio controlled by Nintendo Wii Remote (WiiMote)