Robot mind
Robots with systems which use some form of thought processes .Such as Fuzzy logic.Or controled by a human mind .
Artificial Intelligence: A Modern Approach. Aggressive Maneuvers for Autonomous Quadrotor Flight. Someday, This Robot Will Run Faster Than Us All. Robots learn to walk like a senior citizen - tech - 22 December 2010. Video: Robot moves like a senior citizen Today's humanoid robots are able to run, somersault and even dance – now comes a robot that walks like a senior citizen.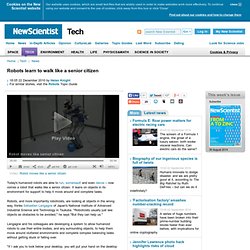 It leans on objects in its environment for support to help it move around and complete tasks. Kinect Hack Makes Robot Mimic Its Master - PCWorld. WowWee Rovio controlled by Nintendo Wii Remote (WiiMote) Robots with a mind of their own. Japan Unveils Mind Control Robot.
---
reel Feb 1 2014

Nice pearl.
I used (abused ?) it a lot. ;-))
---