EFF
Via EFF.org Updates. Will the Rise of Wikileaks Competitors Make Whistleblowing Resistant to Censorship? Since it began publishing a trove of classified United States Embassy cables on November 28, 2010, Wikileaks has faced an onslaught of censorship that demonstrated how online speech is vulnerable when intermediaries refuse to host contentious or unpopular speech.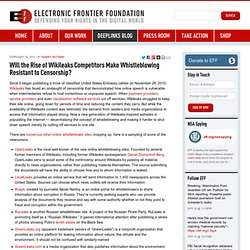 When payment providers, service providers and even visualization software services cut off services, Wikileaks struggled to keep their site online, going down for periods of time and reducing the content they carry. But while the availability of Wikileaks content was restricted, the demand from readers and media organizations to access that information stayed strong. Now a new generation of Wikileaks-inspired websites is populating the Internet — decentralizing the concept of whistleblowing and making it harder to shut down speech merely by cutting off services to one site. Newly Released Documents Detail FBI's Plan to Expand Federal Surveillance Laws. EFF just received documents in response to a 2-year old FOIA request for information on the FBI's "Going Dark" program, an initiative to increase the FBI's authority in response to problems the FBI says it's having implementing wiretap and pen register/trap and trace orders on new communications technologies.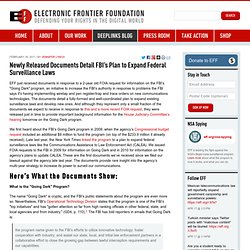 The documents detail a fully-formed and well-coordinated plan to expand existing surveillance laws and develop new ones. And although they represent only a small fraction of the documents we expect to receive in response to this and a more recent FOIA request, they were released just in time to provide important background information for the House Judiciary Committee's hearing tomorrow on the Going Dark program. We first heard about the FBI's Going Dark program in 2009, when the agency's Congressional budget request included an additional $9 million to fund the program (on top of the $233.9 million it already received).
FBI, DOJ and DEA Stall Release of Records on Bid to Expand Surveillance Laws. Today EFF filed a reply brief in its FOIA lawsuit seeking records from the FBI, DOJ and DEA that would justify the Administration's need to expand federal surveillance laws like the Communications Assistance to Law Enforcement Act (CALEA).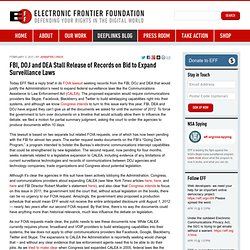 The proposed expansion would require communications providers like Skype, Facebook, Blackberry and Twitter to build wiretapping capabilities right into their systems, and although we know Congress intends to turn to this issue early this year, FBI, DEA and DOJ have argued they can't give us all the documents we asked for until the summer of 2012. To force the government to turn over documents on a timeline that would actually allow them to influence the debate, we filed a motion for partial summary judgment, asking the court to order the agencies to produce documents within 10 days. Copyright Abuse in Ohio Governor Election. UPDATE: The video was restored on October 8.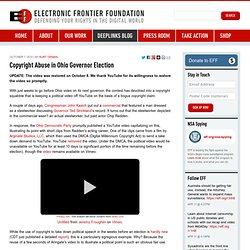 We thank YouTube for its willingness to restore the video so promptly. With just weeks to go before Ohio votes on its next governor, the contest has devolved into a copyright squabble that is keeping a political video off YouTube on the basis of a bogus copyright claim. A couple of days ago, Congressman John Kasich put out a commercial that featured a man dressed as a steelworker discussing Governor Ted Strickland's record. What Does the "Track" in "Do Not Track" Mean? There is a lot of discussion about Do Not Track at the moment.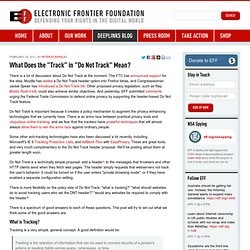 The FTC has announced support for the idea; Mozilla has added a Do Not Track header option into Firefox betas, and Congresswoman Jackie Speier has introduced a Do Not Track bill. Other proposed privacy legislation, such as Rep. Bobby Rush's bill, could also achieve similar objectives. And yesterday, EFF submitted comments urging the Federal Trade Commission to defend online privacy by supporting the header-based Do Not Track feature.
Riding the Fences of the "Urban Homestead": Trademark Complaints and Misinformation Lead to Improper Takedowns. A leading candidate has emerged for the next EFF Takedown Hall of Shame induction: the Dervaes Institute, which is claiming broad ownership rights over the term "urban homesteading" — a term commonly used to describe a social movement dedicated to achieving more self-sufficient, sustainable living in cities.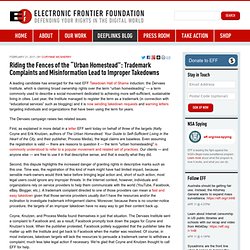 Last year, the Institute managed to register the term as a trademark (in connection with "educational services" such as blogging) and it is now sending takedown requests and warning letters targeting individuals and organizations that have been using the term for years. The Dervaes campaign raises two related issues. Breaking News on EFF Victory: Appeals Court Holds that Email Privacy Protected by Fourth Amendment. In a landmark decision issued today in the criminal appeal of U.S. v.
Warshak, the Sixth Circuit Court of Appeals has ruled that the government must have a search warrant before it can secretly seize and search emails stored by email service providers. Closely tracking arguments made by EFF in its amicus brief, the court found that email users have the same reasonable expectation of privacy in their stored email as they do in their phone calls and postal mail.
EFF filed a similar amicus brief with the 6th Circuit in 2006 in a civil suit brought by criminal defendant Warshak against the government for its warrantless seizure of his emails. There, the 6th Circuit agreed with EFF that email users have a Fourth Amendment-protected expectation of privacy in the email they store with their email providers, though that decision was later vacated on procedural grounds.
Facebook Further Reduces Your Control Over Personal Information. Once upon a time, Facebook could be used simply to share your interests and information with a select small community of your own choosing.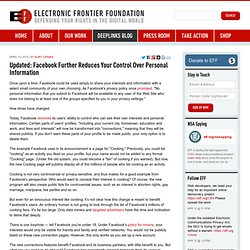 As Facebook's privacy policy once promised, "No personal information that you submit to Facebook will be available to any user of the Web Site who does not belong to at least one of the groups specified by you in your privacy settings. " How times have changed. Today, Facebook removed its users' ability to control who can see their own interests and personal information. Certain parts of users' profiles, "including your current city, hometown, education and work, and likes and interests" will now be transformed into "connections," meaning that they will be shared publicly. If you don't want these parts of your profile to be made public, your only option is to delete them. Senators Unveil Yet Another Flawed National ID Card Plan | Elect. Last Friday, Senators Charles Schumer (D-NY) and Lindsey Graham (R-SC) outlined a proposal for immigration reform.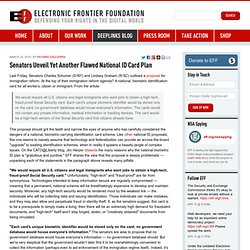 At the top of their immigration reform agenda? A national, biometric identification card for all workers, citizen or immigrant. From the article: We would require all U.S. citizens and legal immigrants who want jobs to obtain a high-tech, fraud-proof Social Security card. Gizmodo Editor Chen Entitled to a Little First Amendment Respect. In yesterday's post, we asserted that the REACT high tech task force search of Gizmodo editor Jason Chen's home and seizure of his computers and other property as part of their investigation of that blog's reporting on the iPhone 4G prototype was almost certainly illegal.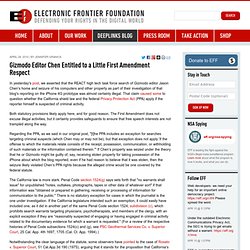 That claim caused some to question whether the California shield law and the federal Privacy Protection Act (PPA) apply if the reporter himself is suspected of criminal activity. Both statutory provisions likely apply here, and for good reason. The First Amendment does not excuse illegal activities, but it certainly provides safeguards to ensure that free speech interests are not trampled along the way.
U.K. Passes Internet Censorship and Disconnection Law | Electron. To Press for New Privacy Protections Against Hidden Video Survei. Philadelphia - On Monday, March 29, at 10 a.m., the Subcommittee on Crime and Drugs of the U.S. Senate Judiciary Committee will hold a public hearing in the Philadelphia federal courthouse on whether the federal electronic privacy laws need to be updated to better regulate secret video surveillance. Senior Staff Attorney Kevin Bankston of the Electronic Frontier Foundation (EFF) will testify.
Lawsuit Against YouTube Threatens Global Growth of Political Speech. San Francisco - The Electronic Frontier Foundation (EFF) and a coalition of advocacy groups have asked a federal appeals court to reject attempts to thwart federal copyright law and saddle online communities with new litigation fears in the appeal of Viacom v. YouTube. In an amicus brief filed Thursday, EFF argues that the infringement claims made by Viacom and the other plaintiffs threaten to undermine the "safe harbor" provisions of the Digital Millennium Copyright Act (DMCA) -- safe harbors that have fostered free speech and innovation around the globe. Work With EFF and TOR for Google's Summer of Code | Electronic F. Interested in working with EFF or Tor, and getting paid for it by Google?
If you are a student and a coder, then we have good news for you: A few of our projects have been accepted for Google's Summer Of Code 2010. At EFF, there are three projects we're focused on: First, TOSBack, which tracks changes to the terms of service of the Internet's most popular websites.
---