Revistas Electrónicas
Revista EducaPR - REVISTA EDUCAPR 2012. Learning Solutions Magazine: Home. Portada - Epistemowikia. Epistemowikia es una revista trimestral (quarterly review), una publicación seriada editada electrónicamenteon-line.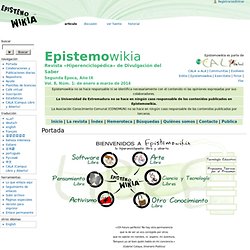 Si bien Epistemowikia es una revista, su espíritu es enciclopédico, en un entorno digital, lo cual se proyecta en sus artículos dinámicos, en constante actualización, superando el concepto tradicional de revista —y dicho sea de paso, el de enciclopedia—, por lo que nos atrevemos a definir Epistemowikia como una revista «hiperenciclopédica». Es Universal e Ilustrada, así como Libre y Abierta, y Viva. Epistemowikia es hiperenciclopédica por ser una fuente de hiperconocimiento, es libre y abierta (FLOHK: Free/Libre & Open HyperKnowledge) en los múltiples significados de estos dos pilares históricos e ideológicos de la Red.
Es pública y gratuita. Y es plurilingüe, pues admite contribuciones en español, catalán, portugués e inglés. LA FORMACIÓN DEL PROFESOR UNIVERSITARIO EN EL ENTORNO DIGITAL. Carlos Oliva Marañón (CV) Doctor en Ciencias de la Comunicación.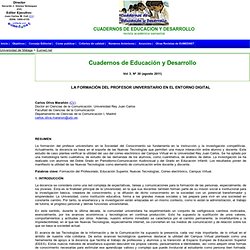 Universidad Rey Juan Carlos Facultad de Ciencias de la Comunicación Departamento de Ciencias de la Comunicación I, Madrid carlos.oliva.maranon@urjc.es La formación del profesor universitario en la Sociedad del Conocimiento se fundamenta en la instrucción y la investigación competitivas. IN CRESCENDO: Revista Científica de la Universidad Católica Los Ángeles de Chimbote - RedD@LAC - Red de D@centes de América Latina y del Caribe - Revista de Estilos de Aprendizaje. International Journal of ePortofolio. Learning Review Latinoamerica. Pixel BIT. In contexts in which we are, in which the "Information and Communication Technology' (ICT), become an element of development and empowerment of our schools and training institutions.
Pixel-Bit, Journal of Media and Education, aims to provide a platform for the exchange of ideas, experiences and research on the application of ICT, regardless of the format in which they are submitted and training contexts in which they develop, whether these formal, non-formal or informal, and educational level. Pixel-Bit, Journal of Media and Education, aims to be a channel of distribution and exchange of ideas and information between researchers in different countries and communities concerned about the introduction, improvement and understanding of ICT in training processes. Journal of Research on Technology in Education. Revista Interuniversitaria de Formación del Profesorado. Any: 2011 Vol.: 4 Núm.: 2. Hekademus - Revista Cientifica de la Fundacion Iberoamericana para la Excelencia Educativa. IRRODL. The Journal of Distance Education / Revue de l'Éducation à Distance.
The Journal of Distance Education is an international publication of the Canadian Network for Innovation in Education (CNIE).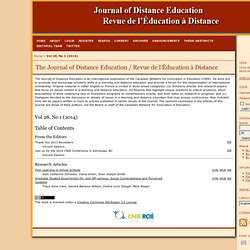 Its aims are to promote and encourage scholarly work in e-learning and distance education and provide a forum for the dissemination of international scholarship. Original material in either English or French is invited in three broad categories: (a) Scholarly articles and research papers that focus on issues related to e-learning and distance education; (b) Reports that highlight unique solutions to critical problems, short descriptions of work underlying new or innovative programs or contemporary events, and brief notes on research in progress; and (c) Dialogues devoted to the discussion or debate of issues in e-learning and distance education that may arouse controversy. Also included here will be papers written in reply to articles published in earlier issues of the Journal.
RELIEVE. RED. Revista de Educación a Distancia. Elearning. Instructional design. Director Honorífico: Charles M.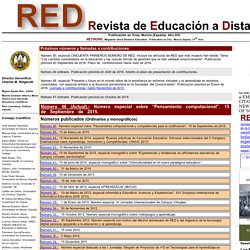 Reigeluth. Revista Virtual Universidad Católica del Norte. La "Revista Virtual Universidad Católica del Norte" -ISSN 0124-5821- es una publicación académica e investigativa de la Católica del Norte Fundación Universitaria, Pionera en educación virtual en Colombia.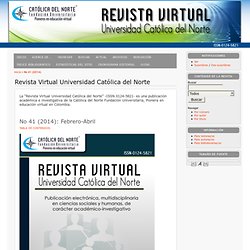 No 41 (2014): Febrero-Abril Revista Virtual Universidad Católica del NorteISSN-0124-5821 Editor: Alexánder Arbey Sánchez UpeguiContacto: edicion@une.net.co / asanchezu@ucn.edu.co Católica del Norte Fundación UniversitariaCampus Santa Rosa de Osos (Antioquia) Carrera 21 No 34B – 07Sede Administrativa Medellín (Antioquia) Calle 52 No 47 – 42 Edificio Coltejer, Piso 5PBX (57) (4) 6 05 15 35ColombiaContacto: info@ucn.edu.co - Portal Web: www.ucn.edu.co. Bienvenido a SCOPEO | Observatorio SCOPEO. :~ REDHECS ~: Revista Electrónica de Humanidades, Educación y Comunicación Social. Es una revista electrónica, científica, arbitrada e indizada con periodicidad semestral.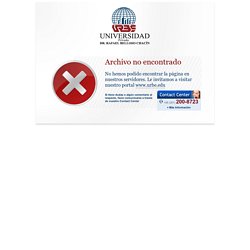 Especializada en Ciencias Sociales, Humanidades, Educación, Comunicación Social e Informática. Constituye un medio de difusión de la producción del conocimiento generado por los investigadores: regionales, nacionales e internacionales en idioma español . El Comité Editorial de REDHECS exige, la originalidad de cada artículo sometido a consideración para su publicación. :: Revista Educere :: Revistas y bases de datos on line sobre TIC y Educación. Muchos docentes, estudiantes de doctorado, investigadores españoles y latinoamericanos, expertos de las ciencias sociales o de la informática, a menudo me solicitan un listado de revistas on line especializadas en el ámbito de la Tecnología y la Educación.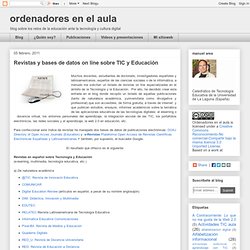 Por ello, he decidido crear esta entrada en el blog donde recopilo un listado de aquellas publicaciones (tanto de naturaleza académica, yuniversitaria como divulgativa y profesional) que son accesibles, de forma gratuita, a través de Internet y que publican estudios, ensayos, informes académicos sobre la temática de las aplicaciones educativas de las tecnologías digitales: el elearning o docencia virtual, los entornos personales del aprendizaje, la integración escolar de las TIC, los portafolios electrónicos, las redes sociales y el aprendizaje, la web 2.0 en educación, etc.
---