Ressources Archéologie 4
The prehistoric city of Tiwanaku is located on the southern shore of the famous Lake Titicaca along the border between Bolivia and Peru. During the heyday of this city was between A.D. 500 and 950, religious artifacts from the city spread across the southern Andes, but when the conquering Inka arrived in the mid-fifteenth century, the site had been mysteriously abandoned for half a millennium. Even after its abandonment, Tiwanaku continued to be an important religious site for the local people. It later became incorporated into Inka mythology as the birthplace of mankind as the Inka built their own structures alongside the ruins.
Interactive Dig Tiwanaku - Revealing Ancient Bolivia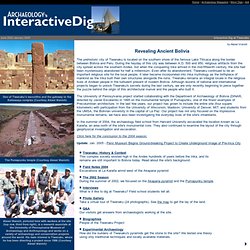 Thousands of entrances to Xibalba, the Maya Underworld, can still be found across the Yucatán peninsula. These water-filled sinkholes, or cenotes, served not only as passageways to the afterlife, but as lifelines for the present. In this riverless land, the Maya depended on the cenotes as their primary source of water. Great cities like Chichén Itzá and Mayapán centered around life-sustaining cenotes, and small villages in the Yucatec hinterland still rely on them.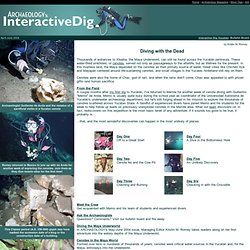 Interactive Dig Yucatán
Bienvenue Bienvenue sur le site du Centre franco-égyptien d'étude des temples de Karnak (CFEETK). Ce site est destiné à diffuser plus largement les différentes activités du Centre (MEA/CNRS USR 3172), en présentant les travaux en cours et les programmes à venir.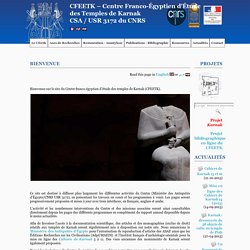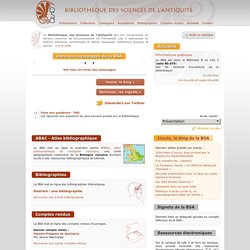 Bibliothèque des sciences de l'Antiquité
Bibliothèque des Sciences de l'Antiquité La Bibliothèque des Sciences de l'Antiquité est une composante du Service commun de documentation de l'Université Lille 3 spécialisée en histoire ancienne, archéologie et lettres classiques (littérature grecque et latine)… Lire la suite Accès au catalogue Actualité Horaires d'ouverture de la BSA Voir les horaires d'ouverture de la bibliothèque
Labiana Callipolis
Le LABIANA Laboratoire d'histoire ancienne et d'archéologie : de la philologie du politique, était une équipe de chercheurs dont le centre d'intérêts est l'analyse du discours politique dans les mondes anciens. Il est né en décembre 1996 au sein de la section d'histoire de l'UFR lettres et sciences humaines de l'université de Corse. Ce laboratoire était organisé en deux équipes distinctes, une qui se consacrait au monde grec sous la direction d'Olivier Battistini et une autre spécialisée dans le monde romain dirigée par Olivier Jehasse. Aujourd'hui, le laboratoire s'est restructuré et se consacre uniquement au monde grec et à ses alentours.
Egyptian Monuments
Descriptions and photographs of the ancient Egyptian monuments A detailed guide to the archaeological sites of the Nile Valley and desert areas of Egypt Essential information for the independent traveller Places to visit and how to get there The SITE MAP on the sidebar will take you to all pages on this website and this is the easiest way to navigate if you're looking for a particular monument. Alternatively you can browse the monuments by geographical area from the REGIONS list on the sidebar. If you're looking for my journal you can find it at : Reflections in the Nile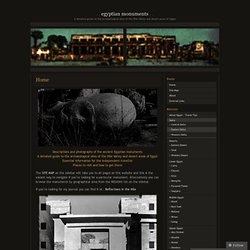 Bill Thayer's Web Site
Bill Thayer's Gazetteer of Italy
The Marche are tucked out of the way, so that the casual traveller to Italy, and certainly those who scramble from Venice to Florence to Rome to look at famous things, will never see them. At best they'll cross the region on a train, or nip thru a piece of it accidentally by car. Yet it is a beautiful part of Italy, and there is a saying — carefully fostered by the regional tourism authorities — that to see the Marche is to see all the country has to offer, in one place.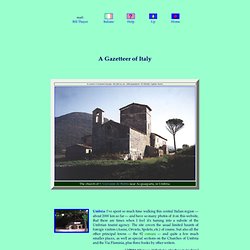 Interactive Dig Tiwanaku - History and Context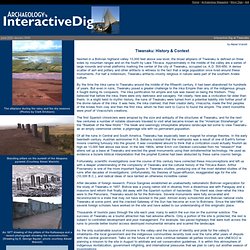 Nestled in a Bolivian highland valley 13,000 feet above sea level, the broad altiplano of Tiwanaku is defined on three sides by mountain ranges and on the fourth by Lake Titicaca. Approximately in the middle of the valley are a series of large mounds and small platforms marking the center of the city of Tiwanaku, occupied ca. A.D. 500-950. A dense scatter of ash and pottery and other artifacts is witness to the fact that a large population once lived around these monuments.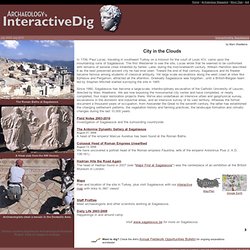 Interactive Dig Sagalassos - City in the Clouds
In 1706, Paul Lucas, traveling in southwest Turkey on a mission for the court of Louis XIV, came upon the mountaintop ruins of Sagalassos. The first Westerner to see the site, Lucas wrote that he seemed to be confronted with remains of several cities inhabited by fairies. Later, during the mid-nineteenth century, William Hamilton described it as the best preserved ancient city he had ever seen. Toward the end of that century, Sagalassos and its theater became famous among students of classical antiquity. Yet large scale excavations along the west coast at sites like Ephesos and Pergamon, attracted all the attention. Gradually Sagalassos was forgotten...until a British-Belgian team led by Stephen Mitchell started surveying the site in 1985.
Vivre au bord du Danube il y a 6500 ans
A la Une Passion française. Les voix des cités Présentation du dernier ouvrage de Gilles Kepel, à paraître le 3 avril 2014. * Jeudi 17 avril 2014 - de 18h à 20h - grand amphi de l'université Lumière Lyon 2 - 18 quai Claude Bernard - Lyon 7e (