Wikilieaks
Get flash to fully experience Pearltrees
The contrast between these two headlines from this morning tells a significant story: From The Guardian ( click image to enlarge ):
The WikiLeaks disclosure has revealed not only numerous government secrets, but also the driving mentality of major factions in our political and media class.
Wikileaks - Cablegate / Statelogs
August 18, 2010 |
Whenever the U.S. Government wants to demonize a person or group in order to justify attacks on them, it follows the same playbook: it manufactures falsehoods about them, baselessly warns that they pose Grave Dangers and are severely harming our National Security, peppers all that with personality smears to render the targeted individuals repellent on a personal level, and feeds it all to the establishment American media, which then dutifully amplifies and mindlessly disseminates it all.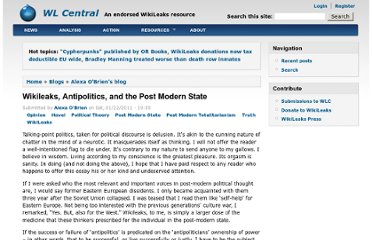 Talking-point politics, taken for political discourse is delusion. It's akin to the cunning nature of chatter in the mind of a neurotic. It masquerades itself as thinking.
Washington, DC, December 16, 2010 - Efforts to tighten the secrecy system and crackdown on leakers and the media will be "fundamentally self-defeating," according to Thomas Blanton, executive director of the National Security Archive, who testified today before the House Committee on the Judiciary. During the first Congressional hearing in the aftermath of "Cablegate" and the Wikileaks release of State Department documents, Blanton urged that lawmakers take a reasoned view of the issues raised by the leaks and not to "overreact." "There is more heat than light," Blanton stated, citing calls for broadening the Espionage Act and assassinating Wikileaks leader, Julian Assange.