Résines biosourcées
Cardolite Corporation
September 1, 2007 – Dragonkraft SARL opens for business to create environmentally friendly epoxy resins and to demonstrate the capabilities of these resins through their product line of watercraft October 2007- First watercraft was constructed using UVL resin December 2007 – Products were first displayed a the Salon Nautique in Paris and work began on a new resin formulation based on market research Febuary 2009- The first functioning generation of bio based epoxy is created
Europe ltd, Corporate Partners, Akcros Chemicals, Keyzer Mackay, bio composite, renewable resources, ecological, epoxy, resin, eco-poxy
What makes EcoPoxy Safe? EcoPoxy® is the ONE green system that is odorless, *non-toxic, *safe, 100% solid, non-solvent, non-hygroscopic, non-conductive, versatile and price competitive. We have 26 years of industry experience and have put together "The Perfect Union between Science and Nature" in order to develop the SAFEST EPOXY available today. EcoPoxy® surpasses Southern California air quality standards. EcoPoxy "The Natural Choice"
Ecopoxy Systems | The Natural Choice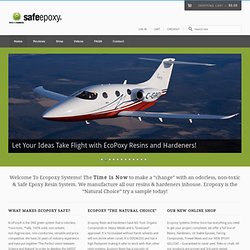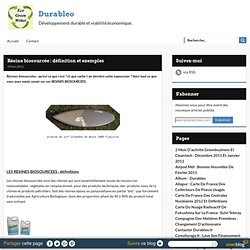 Jeudi 3 mars 2011 4 03 /03 /Mars /2011 09:00 - Par EcoGreenWriter Résines biosourcées : qu'est ce que c'est ?
Résine biosourcée : définition et exemples
www.materiatech-carma.net/module/upload/phpIPetrF.pdf
www.polemaud.com/upload/Soulestin Atelier MAUD.pdf
Agro-ressources et polymères verts.pdf
eprints.usq.edu.au/3120/1/Presentation.pdf
Etude d'adhérence lin/PLA
CSST - Service du répertoire toxicologique
Review of existing bioresins and their applications - 2007 .pdf