Religion
Ali Gomaa - Official Website
Safiyyah Surtee | Published Archives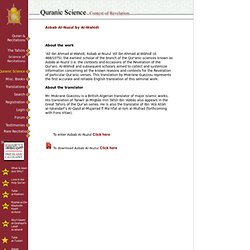 About the work 'Alī ibn Ahmad al-Wahidi, Asbab al-Nuzul 'Alī ibn Ahmad al-Wāhidī (d. 468/1075), the earliest scholar of the branch of the Qur'anic sciences known as Asbāb al-Nuzūl (i.e. the contexts and occasions of the Revelation of the Qur'an). Al-Wāhidī and subsequent scholars aimed to collect and systemize information concerning all the known reasons and contexts for the Revelation of particular Qur'anic verses. This translation by Mokrane Guezzou represents the first accurate and reliable English translation of this seminal work. About the translator
The Holy Qur'an: Translations of Selected Verses
the fatal feminist | Islam. Feminism. Mermaids.
A Sober Second Look | Having converted to Islam way back in the '80's, I've had time to think about it
Volumes 1-3 here Volumes 4-7
b o r d e r l a n d s e-journal :: all issues
Internet Medieval Sourcebook Selected Sources: Islam Contents General Pre-Islamic Arabia Muhammad and Foundations - to 632 CE Islamic Expansion and Empire - to 750 CE The Abbasid Caliphate - after 750 CE Politics Philosophy Science Literature Crusades Al-Andalus: Muslim Spain Muslim Persia Egypt and North Africa Muslim Religious Development Sufism The Sunni Tradition The Shia Tradition Relations with Other Religions The Turks General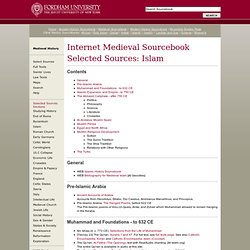 Internet History Sourcebooks
Margari Aziza | Reflections on the Intersection of Religion, Race, and Gender
Kawthar Muhaib
Khadijah's Caravan
A Sober Second Look | Having converted to Islam way back in the '80's, I've had time to think about it
SEHR, volume 5, issue 1: Contested Polities Updated February 27, 1996 the case of the tablighi jama`at Barbara Metcalf The Tablighi Jama`at is a quietist, apolitical movement of spiritual guidance and renewal that originated in the Indian subcontinent, whose networks now reach around the world. Today Tablighi Jama`at's annual meetings in Pakistan and Bangladesh are attended by over a million people, and, even though meetings in India are smaller, participants may well be as many.
islam and women: the case of the tablighi jama`at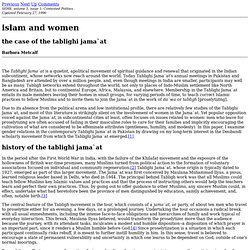 The American Dream is Dead...by Sabina England
Open Interpretations | A newsletter about Islam from a progressive and sometimes interfaith perspective
Council of Religious Institutions of the Holy Land
Home | The Muslim Institute
In my experience, yet another important way that the blame for some men's failures to fulfill their "responsibility" to provide for and protect women is often shifted onto women is through the imperative that all adult, sane Muslims "seek knowledge." That is, when a Muslim woman ends up being poorly treated or abused by a Muslim man who is supposed to be providing for and protecting her—whether this be her husband, her father, or any other close male relative—or by a Muslim man in a position of power or authority, such as an imam, shaykh, or community leader, then the main person at fault is supposedly… her. If you don't "seek knowledge from cradle to grave," Sister, then of course you won't know what Islam Really Teaches…. Yes, this is a madrasah for boys, true.
"Seeking knowledge": a cure for patriarchal abuses? « A Sober Second Look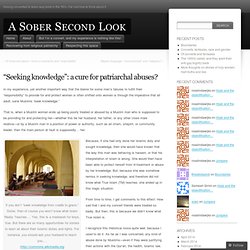 Heavy Metal Islam; Rock, Resistance, and the Struggle for the Soul of Islam
Muslim World Music Day يوم موسيقى العالم الإسلامي APRIL 12, 2011
The burning music question in Islam: prohibited or not?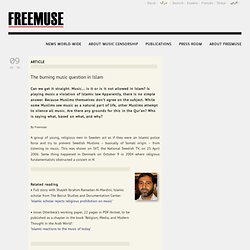 Related reading • Full story with Shaykh Ibrahim Ramadan Al-Mardini, Islamic scholar from The Beirut Studies and Documentation Center: 'Islamic scholar rejects religious prohibition on music' • Jonas Otterbeck's working paper, 22 pages in PDF-format, to be published as a chapter in the book 'Religion, Media, and Modern Thought in the Arab World': 'Islamic reactions to the music of today' Context: Writings about music prohibition in Islam Book: 'The Islamic Ruling on Music and Singing' In 1986, Abu Bilal Mustafa Al-Kanadi wrote a book entitled 'The Islamic Ruling on Music and Singing', which was published by Abul-Qasim Bookstore in Jeddah, Saudi Arabia. The book is online on at least half a dozen different web sites.
Sheikh Jawdat Said on the power of nonviolence today | Metta Center Metta Center
Muslim Punk Rock is Nothing New | CSC Center for Strategic Communication
by Chris Lundry In an AP wire story picked up by numerous print and online media, Russell Contreras writes about discovering the "new movement" of Muslim-Hindu punk bands (including Boston's the Kominas). The implication is that we are witnessing a new youth music movement that might serve as a challenge to religious fundamentalism and its extremist outcomes. It's a great bit of publicity for the band, but it reflects the author's lack of prior awareness about the music rather than a description of a breaking music movement. In fact Muslim punk is nothing new.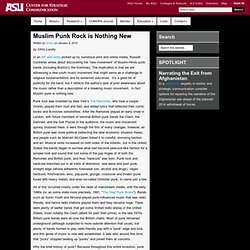 Metis' Blog on Muslim Feminists
2012 June Archive – Initium, or how I learned to love the Kali-Yuga
Ice Cube, NWA, Julius Evola, and the Metaphysics of Sex What do Ice Cube, NWA, and Julius Evola have in common? Well, not much actually.
- American Islamic Congress
The.alternative.muslim's Blog
M Squared Designs LLC
Media, Film, Music, Religion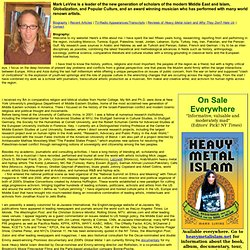 I received my BA in comparative religion and biblical studies from Hunter College. My MA and Ph.D. were done at New York University's prestigious Department of Middle Eastern Studies, home of the most acclaimed new generation of Middle Eastern scholars in America. There I focused on the history of the Israeli-Palestinian conflict and modern Islamic religious and political thought and movements. Before being hired at the University of California, Irvine, in 2001, I was a fellow at numerous research institutions, including the International Center for Advanced Studies at NYU, the Stuttgart Seminar in Cultural Studies, in Stuttgart Germany, the Society for the Humanities at Cornell University, and the Robert Schuman Centre for Advanced Studies at the European University Institute in Florence, Italy.
Mark LeVine: A Critical Voice of the New Generation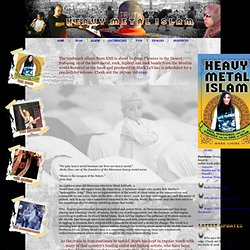 Heavy Metal Islam | Home
The landmark album from EMI is about to drop. Flowers in the Desert, featuring 19 of the best metal, rock, hiphop and rock bands from the Muslim world featured in the book and produced by Mark LeVine, is scheduled for a pre-holiday release. Check out the promo vid HERE : "We play heavy metal because our lives are heavy metal." -Reda Zine, one of the founders of the Moroccan heavy-metal scene "Music is the weapon of the future."
Performance, Politics, Piety: Music as Debate in Muslim Societies of North Africa, West Asia, South Asia and their Diasporas
The Muslim Anarchist Charter asserts that: there is no god but God and Muhammad (aws) is God's prophet and messenger; the purpose of life is to establish a loving relationship with The One through a hermeneutic engagement with God's signs ( ayat ) in revelation, creation, and in the human mind and heart.
Muslim Anarchist Charter
ICIP-The International Centre for Islam and Pluralism
JIL English Edition
Assyaukanie.com
IRF | Islamic Renaissance Front
Welcome to Al-RawiyaFoundation
Islam and Islamic Studies Resources
the fatal feminist | Islam. Feminism. Mermaids.
Contributors « Love, InshAllah
Meet Love InshAllah's 25 inspirational and courageous contributors! The Editors Editors Ayesha Mattu and Nura Maznavi's first book, Love, InshAllah: The Secret Love Lives of American Muslim Women, was featured globally by media including The New York Times , NPR, BBC, The Washington Post , The Guardian , The Times of India , Dawn Pakistan and The Jakarta Post .
Mohsen Kadivar | Official website |
AbdolKarim Soroush :: عبدالکريم سروش
M. Azis Tunny, The Jakarta Post, Makassar | People | Fri, August 13 2010, 9:15 AM
Siti Musdah Mulia: A courageous woman
Euro-Islam: News and Analysis on Islam in Europe and North America
Imam Daayiee Abdullah, Remarks at Islam and Homosexuality Panel - Full
LOS ANGELES — Like other aspiring reformers before her, Ani Zonneveld takes positions that make her unpopular with her religion's spiritual leaders, in this case America's Islamic elders. Not only does she lead prayers — a task normally reserved for men — but she is an outspoken advocate for gay, bisexual and transgender Muslims. Later this year, she plans to officiate at the Islamic wedding of a lesbian couple, which is perfectly acceptable by her reading of the Quran.
Battling for gay rights, in Allah's name - US news - Life
Safra Project
at-Tahawi
Mohammad Fadel | University of Toronto Faculty of Law
Weblog | abdullahsaeed.org
Islamic Center at NYU
Recently, Imam Khalid Latif, Executive Director and Chaplain of the Islamic Center at NYU, wrote an Op-Ed published by CNN entitled My Take: Muslims Must Engage Politically, Look Outside Themselves . To read the entire article in full, please click here .
Women As Prophets
Halima's Home Page
Shaykha Halima Krausen - Radical Middle Way
Muslim Peace Fellowship
Nonviolent Soldier of Islam: Badshah Khan, a Man to Match His Mountains - Eknath Easwaran
Home - Muslim Public Affairs Council
Salam Institute | for Peace and Justice
Ijtihad, Islam, American Muslims, Terrorism, Globalization, Quran, Geopolitics, American Foreign Policy, Islam and democracy, islamic philosophy, Islam and politics
Justification for Violence in Islam Part VIII Quietism rather than Pacifism in Islam
Feminist Islam
WISE Muslim Women
altmuslim - global perspectives on Muslim life, politics, and culture
Liberal Islam Web Links – Charles Kurzman
Looking at Muslim women in the media and pop culture » Muslimah Media Watch
news | Digital Islam
WHAT'S NEW
Karamah Home
Women Living Under Muslim Laws
Sisters in Islam - Home
FSE Project | Muslim Sexual Ethics
Muslim Women's Prayer Spaces
Religion News Service | Religion News in Photos, Articles & Video
Interfaith Voices | A public radio show promoting religious harmony and interfaith understanding
open source buddhist research institute » Documentaries
Muslim Voices: Islam Blog, Videos and Podcasts Promoting Intercultural Dialogue
Muslim Faith: Islam as a Religion, History, Beliefs, and Facts | Patheos
muzlimbuzz
Stopping Oppression: An Islamic Obligation
Rabbis for Human Rights
CRCC: Center for Muslim-Jewish Engagement : About the Center
Qantara.de - Dialogue with the Islamic World
The American Muslim (TAM)
GOATMILK: An intellectual playground edited by Wajahat Ali
Loonwatch.com - "The Mooslims, they're heeere!"