Reference management
A collection of tools to manage references and bibliographies... kbpc Jul 24
Important news: ++ Wanted: LibreOffice developer & MS Word (Mac) developer ++ Apply now for a paid internship at Docear, summer 2014 ++ Docear is a unique solution to academic literature management, i.e. it helps you organizing, creating, and discovering academic literature. Among others, Docear offers: A single-section user-interface that allows the most comprehensive organization of your literature. With Docear, you can sort documents into categories; you can sort annotations (comments, bookmarks, and highlighted text from PDFs) into categories; you can sort annotations within PDFs; and you can view multiple annotations of multiple documents, in multiple categories – at once.A 'literature suite concept' that combines several tools in a single application (pdf management, reference management, mind mapping, …).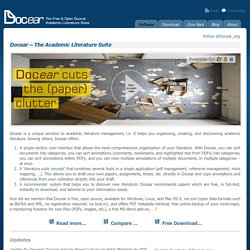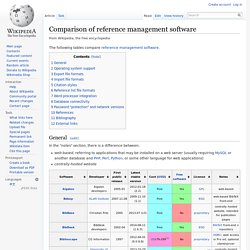 The following tables compare reference management software. General[edit] In the "notes" section, there is a difference between: web-based, referring to applications that may be installed on a web server (usually requiring MySQL or another database and PHP, Perl, Python, or some other language for web applications)centrally-hosted website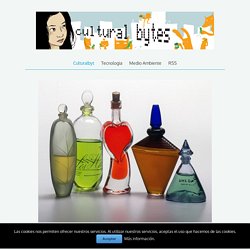 es - Tricia Wang, Cloud Computing for Researchers - Mendeley Your Life!
Occasionally on Cultural Bytes I will review tools that help my ethnographer-self stay sane, organized and useful to society. I am confident to say that every researcher I know IS CURRENTLY dealing with what I am addressing below - citation and PDF nightmares. Today is the first day you can take a step towards freedom, organization, and access. What better name for a product that is a comforter for researchers! ( here's the founders' explanation for the name, which I found out has nothing to do with the Russian meaning) This software will change your researching-intellectual, academiky life forever!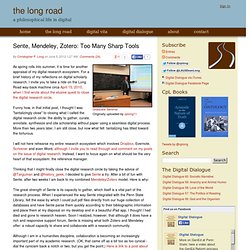 As spring rolls into summer, it is time for another appraisal of my digital research ecosystem. For a brief history of my reflections on digital scholarly research, I invite you to take a ride on the Long Road way-back machine circa April 15, 2010, when I first wrote about the elusive quest to close the digital research circle. Funny how, in that initial post, I thought I was "tantalizingly close" to closing what I called the digital research circle: the ability to gather, curate, annotate, synthesize and cite scholarship without paper using a seamless digital process. More than two years later, I am still close, but now what felt tantalizing has tilted toward the torturous. I will not here rehearse my entire research ecosystem which involves Dropbox, Evernote, Scrivener and even Word, although I invite you to read through and comment on my posts on the issue of digital research. Instead, I want to focus again on what should be the very heart of that ecosystem: the reference manager.
Sente, Mendeley, Zotero: Too Many Sharp Tools - The Long Road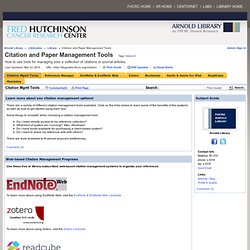 Use these free or library-subscribed, web-based citation management systems to organize your references. To learn more about using RefWorks, visit our the RefWorks LibGuide To learn more about using EndNote Web, visit the EndNote & EndNote Web LibGuide To learn more about using Zotero, visit the Zotero LibGuide
Citation Mgmt Tools - Citation and Paper Management Tools - LibGuides at Fred Hutchinson Cancer Research Center
I have used reference database software for many years. RefWorks is the most intuitive and least problematic of any software that I have used. It permits me to capture the reference information for the online resources more effectively than other tools.
Nota Bene: Software for Academic Research and Writing
"I love that everything is inline! The enhanced PDF allows me to use the more easily-readable and more organized PDF format while retaining (and even improving) the functionality of an online-accessed, full-text article with hyperlinked references and supplements" Jordan Reuter Microbiology and Cell Science student University of Florida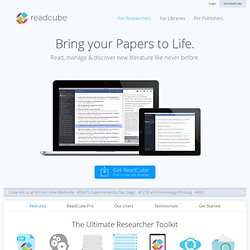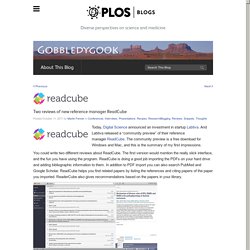 Today, Digital Science announced an investment in startup Labtiva . And Labtiva released a "community preview" of their reference manager ReadCube . The community preview is a free download for Windows and Mac, and this is the summary of my first impressions. You could write two different reviews about ReadCube. The first version would mention the really slick interface, and the fun you have using the program. ReadCube is doing a good job importing the PDFs on your hard drive and adding bibliographic information to them.
Two reviews of new reference manager ReadCube | Gobbledygook
Hello ReadCube users! We at ReadCube have made negotiating more contracts and increasing our pool of accessible articles a priority for the past few months, and will continue to do so. Implementing more databases is a full-time effort for us, and we will continue to expand our available research literature as time goes on. One major addition we've added is support for aggregators (i.e. Proquest, Ingenta, EBSCO). For users at institutions who use aggregators to purchase content, this should allow you to have more seamless access to articles through your library's subscriptions.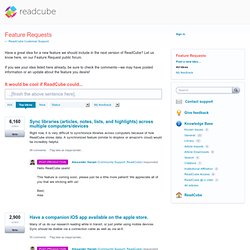 Feature Requests: Top (103 ideas) – ReadCube Customer Support
Keep your websites iCyte lets you save webpages & PDF's exactly as you remember them. Don't worry, we've crafted our saver to reflect every last detail. Organize your work or play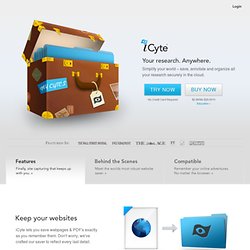 Mendeley is a free reference manager and academic social network that can help you organize your research, collaborate with others online, and discover the latest research. Automatically generate bibliographies Collaborate easily with other researchers online Easily import papers from other research software Find relevant papers based on what you're reading Access your papers from anywhere online Read papers on the go, with our new iPhone app View more features… Groups allow you to share and collaborate with other researchers in your discipline. Featured Groups "This group is created for the purpose of submitting your assignment" "This group shares research findings and topics in English Teaching and..." "Este es un grupo de trabajo para el curso Fuentes de Información de..."
PaperCritic- post about curating your own journal articles with reviews
There has been quite a bit of press lately about the peer review process and access to journal articles, namely, how these are controlled by some of the bigger-name journals (at great expense to libraries and users). The point of this post is not to argue the rights and wrongs of review and access of journal articles. What I'd like to highlight here is a complementary service to Mendeley that can help you curate your own subsection of journal articles, including comments and reviews to and from fellow academics who weren't invited to review the articles the first time around. PaperCritic is a open publication review tool that uses the Mendeley API in order to facilitate commentary and review of journal articles. In short, you can connect it to your Mendeley account and then comment on articles publicly, including rating them on readability, quality of argument, and other fields.
PaperCritic | Review any scientific publication
FAQ