Recycle Crafts (non Fabric)
Get flash to fully experience Pearltrees
More than a few gifts this year to friends and family were gift cards and although they possessed monetary value, I felt the enjoyment of receiving a wrapped gift box was somehow lost. So after purchasing several two dollar gift boxes just to put gift cards in I came up with a packaging idea that would cost next to nothing. Supplies: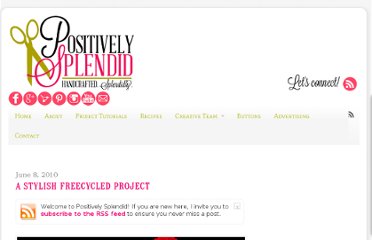 Welcome to Positively Splendid! If you are new here, I invite you to subscribe to the RSS feed to ensure you never miss a post.
This week's project is a rug I crocheted from a couple of old white t-shirts and the remaining pieces of a blue jersey sheet.
Tinwork Embossed tinwork is sometimes used to decorate rustic style photo or mirror frames, or just to make decorative items such as Christmas tree decorations. The metal used is usually thicker (tinplate) and is normally worked with hammered tools - I wanted to try to get a similar effect, but with a bit less effort.
Inspired by CB2's bamboo bath mat I'm evidently on a hot-glue kick lately. This bath mat requires just three materials: shelf liner, hot glue, and 175 wine corks. How did I gather 175 wine corks, you ask?
There's a really nice feeling that comes along with bringing in your own bags to the store with you. You walk in knowing that you're doing your part to help the world! Did you know...
Since I posted my crochet Sea Creatures on Flickr in November, 2006, many people have asked me how I make the plastic bag yarn. So here is a How to lesson. There are many different techniques, but I found this one worked best for me. Be warned..... it's very time consuming, but strangely cathartic.
For crafters who want to know how to crochet with pull tabs, we've come up with this free crochet pattern that will teach you how to crochet a flower. This is our first DIY project and it's a good introduction to recycled crafts. This crochet flower can be made into a Christmas tree ornament, a brooch or incorporated into a larger project. To download a printable version, click here » 6 pull tabs Crochet thread (1 or 2 colors). We recommend a strong synthetic fiber that is resistant to abrasion Lighter Scissors Wire cutters No 3 crochet needle
Posted on March 6, 2011 This tutorial shows how you can recycle plastic newspaper bags into plastic bag yarn or plarn . Converting these narrow plastic bag sleeves into yarn is very similar to cutting retail bags to make plastic bag yarn. I have create a picture tutorial outlining the steps below. This method can be used for any narrow plastic bags like newspaper sleeves, English muffin bags, packing pillows and any other skinny plastic bags. The result is short plastic loops that can be joined into one long continuous strip for crocheting, knitting, or weaving.