Reading list
Startsida - minpension.se
Miljardären som misstror börsen - Entreprenör - E24
E24 träffar Stordalen i Monaco, där han är på plats som Norges representant i entreprenörstävlingen Entrepreneur Of The Year.
The Afghan city of Jalalabad has a high-speed Internet network whose main components are built out of trash found locally. Aid workers, mostly from the United States, are using the provincial city in Afghanistan's far east as a pilot site for a project called FabFi.
Afghanistan's Amazing DIY Internet | Fast Company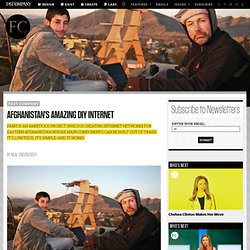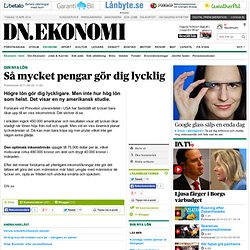 Så mycket pengar gör dig lycklig
Forskare vid Princeton universitetet i USA har fastställt att lyckan bara ökar upp till en viss inkomstnivå. Det skriver di.se. I enkäten ingick 450.000 amerikaner och resultaten visar att lyckan ökar stadigt när lönen höjs från noll och uppåt. Men vid en viss lönenivå planar lyckokänslan ut.
vad är det det kallas innom national ekonomin, law of deminishing return... dvs 40 000 till i månaden gör mig inte dubbelt så lycklig... det är nog sant... och jag vettifaan om jag skulle säga att jag väljer jobb efter lön, utan efter en viss nivå (typ 40 k) så väljer jag hellre arbetsuppgifter och kollegor. by henrikkenani Jun 21
Kan nog stämma. Jag tror att det verkligen är en dalandekurva, men det är klart att det har lite med vad man har för behov.

Vad tror du? by gustaflindqvist Jun 21