Reading list
Startsida - minpension.se
The Afghan city of Jalalabad has a high-speed Internet network whose main components are built out of trash found locally. Aid workers, mostly from the United States, are using the provincial city in Afghanistan's far east as a pilot site for a project called FabFi . It's a broadband apart from the covert, subversive " Internet in a suitcase " and stealth broadband networks being sponspored by the U.S., aimed at empowering dissidents, but the goal isn't so different: bringing high-speed onilne access to the world's most remote places. Residents can build a FabFi node out of approximately $60 worth of everyday items such as boards, wires, plastic tubs, and cans that will serve a whole community at once.
Afghanistan's Amazing DIY Internet | Fast Company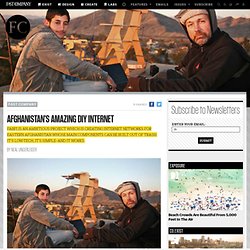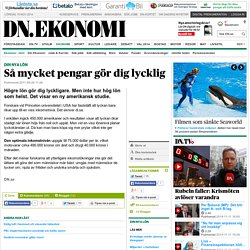 Så mycket pengar gör dig lycklig
Högre lön gör dig lyckligare. Men inte hur hög lön som helst. Det visar en ny amerikansk studie.
vad är det det kallas innom national ekonomin, law of deminishing return... dvs 40 000 till i månaden gör mig inte dubbelt så lycklig... det är nog sant... och jag vettifaan om jag skulle säga att jag väljer jobb efter lön, utan efter en viss nivå (typ 40 k) så väljer jag hellre arbetsuppgifter och kollegor. by henrikkenani Jun 21
Kan nog stämma. Jag tror att det verkligen är en dalandekurva, men det är klart att det har lite med vad man har för behov.

Vad tror du? by gustaflindqvist Jun 21