Quotes
- StumbleUpon. - StumbleUpon. What I Learned from Harry Potter - StumbleUpon. Harry Potter has been a part of my life since I was in high school.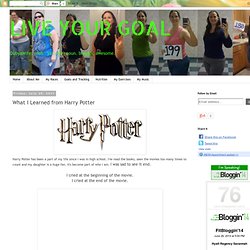 I've read the books, seen the movies too many times to count and my daughter is a huge fan. It's become part of who I am. I was sad to see it end. I cried at the beginning of the movie. Inspirational quotes | #433 & From up North | Design inspiration & news - StumbleUpon. Learn to be Still.. - wave avenue - StumbleUpon. Posted by rd on Monday, January 23, 2012 · I love browsing thru quotes that I could ponder on at the start of the week and I'm glad to be sharing these with you.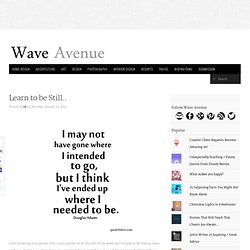 Here's a question: Have you ever tried doing everything at once? It's tiring isn't it? Everything happens to quickly now and we feel the need to keep up with the pace. Everythings Right - StumbleUpon. 100 Most Inspirational Quotes Of All Time - Global One TV - StumbleUpon. Courtesy of My-Inspirational-Quotes.com 1.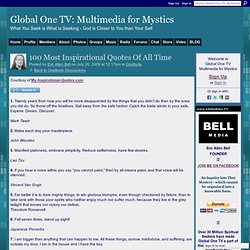 Twenty years from now you will be more disappointed by the things that you didn't do than by the ones you did do. Quotes for Motivation and Inspiration - StumbleUpon. Inspirational fitness quotes — Celebrities, Current Events, Health & Fitness, Northwest Indiana Mom Blog - StumbleUpon. Quotes, quotes, & more quotes - Polyvore - StumbleUpon. Fred OBryants Quote Collection - Volume 1 - StumbleUpon. 17 things no one probably have told you yet (comics by alex noriega) - wave avenue - StumbleUpon.
Posted by rd on Monday, August 15, 2011 · Mozambique based illustrator Alex Noriega loves drawing, reading and drawing even more.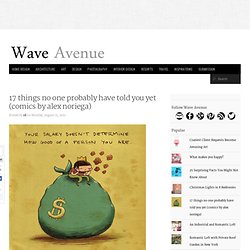 Alex was born and raised in Barcelona, went to Llotja, an art and illustration school also in Barcelona. After finishing school, he worked odd jobs and eventually landed a job as an illustrator in a fashion company. Finally, the call to blog got to him. Other halves. ↩ Jacobs Ephemerata.
---