Finished Projects to Admire
I wanted to tell you that I don't have any Sunday Stash to share with you today and that I am awaiting the arrival of last week's purchases - like Hello Petal by Aneela Hoey and Catnap by Lizzy House - but I found some Quilt Market stash that I had tucked away in a safe place. This is the 2014 Echino Decoro collection - yet to be released. It is the medium to heavy weight fabric base (45% cotton 55% Linen) and suitable for home decorating, apparel and of course quilts.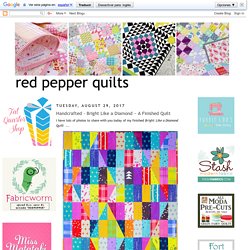 Quilts
Haptic Lab is a small design studio in Brooklyn that creates products, spaces and situations to promote embodiment. The word "haptic" refers to the sense of touch, and everything we design is meant to inspire meaningful connections through that sense. Soft-Maps are quilted maps of cities and neighborhoods that represent someone's unique place in the world, and are tactile keepsakes meant to last generations.
Readymade Quilts : Haptic Lab