Finished Projects to Admire
It has been a busy week, and unlike most weeks two days were spent out and about at Quilt Shows. Two shows in one week, and one of those was the Australasian Quilt Convention in Melbourne (last day today!). Both quilt shows were wonderful and inspiring with color, design and fabric overload.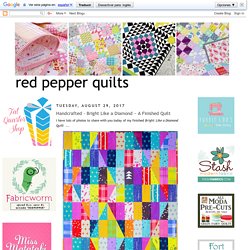 Quilts
Haptic Lab is a small design studio in Brooklyn that creates products, spaces and situations to promote embodiment. The word "haptic" refers to the sense of touch, and everything we design is meant to inspire meaningful connections through that sense. Soft-Maps are quilted maps of cities and neighborhoods that represent someone's unique place in the world, and are tactile keepsakes meant to last generations.
Readymade Quilts : Haptic Lab