Qrcode
Mobile Barcoder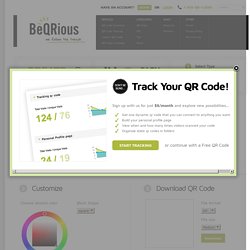 A QR code generator is a software or online application that allows you to create QR codes. QR codes are probably the most popular and flexible two-dimensional barcode that is used by most businesses and individuals for anything from their marketing campaigns, education and even in ordinary lives and lets not forget just for fun! They're widely used by any web design agency As QR codes gain popularity, more and more Web sites are offering free QR code generator services. With all the choices, and because they are all similarly free, most people just use the first QR code generator they find. But how do you distinguish one service from the other?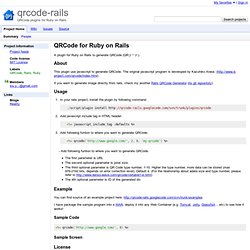 A plugin for Ruby on Rails to generate QRCode (QRコード). About This plugin use javascript to generate QRCode. The original javascript program is developed by Kazuhiko Arase. (http://www.d-project.com/qrcode/index.html)
qrcode-rails - Project Hosting on Google Code
qrbadge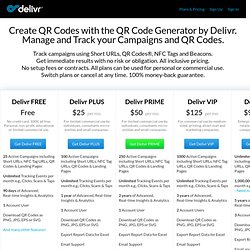 Delivr FREE is offered for personal, non-profit, educational or limited commercial use in social, mobile, and Web-based campaigns, limited run posters and local-level print advertising campaigns. Delivr FREE can not be resold or provided as part of a commercial offering or service. If you are creating a Delivr account as part of a commercial service offered to others e.g., using Delivr to provide campaign management, landing pages, tracking or reports to a client, please select the appropriate paid plan.