McKenna
UFOTV Presents... - Terence McKenna - The Last Word - Ayahuasca, Shamanism and Politics - Full Length Presentation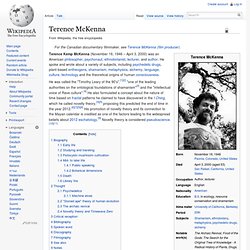 Terence Kemp McKenna (November 16, 1946 – April 3, 2000) was an American ethnobotanist , philosopher, psychonaut , researcher, teacher, lecturer, and writer.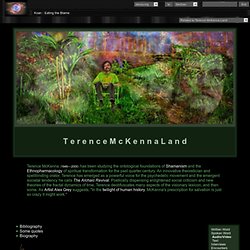 media/McKenna streaming audio and video Rupert Sheldrake hosts many excellent realaudio streams including Trialogues at the Edge of the Millenium Part I and Part II led by Terence (1.5 hours each) The Trip Receptacles : MP3 clips from all-psychedelic, all-entheogen radio, transmitted via KPFA in Berkeley with Stanislav Grof, Alexander (Sasha) Shulgin, Timothy Leary , Terence McKenna, Albert Hoffman, Rick Strassman , Fritjof Capra, Andrew Weil , D.M. Turner and many others.
In the Sixties, it was not uncommon for friends or colleagues to leave for awhile, then return. These travelers, however, had not made round trips to such identifiable exotic stops as Tibet or China, or even Mexico. Rather, they had tripped on acid or mushrooms: new territory.
Terence McKenna Interview by OMNI Magazine, May 1993
Terence Mckenna "-Millennium Tour" - 2012, wormholes, tree of life
Terence McKenna's 'Stoned Ape Theory' animated
Probably the single most perplexing element in the fossil record is the doubling of the brain-size of Homo Sapiens over the period of just two million years (a very, very short period of time in evolutionary terms).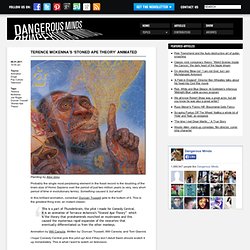 Terence McKenna - Drugs, Children and growing up
Terence McKenna » Notes from the Psychedelic Salon
Guest speaker: Terence McKenna Listen Download Subscribe MP3 Free PCs – Right click, select option Macs – Ctrl-Click, select option [NOTE: All quotations are by Terence McKenna .]