Botanicals
Coffea is a genus of flowering plants whose seeds , called coffee beans , are used to make coffee . It is a member of the Rubiaceae family . They are shrubs or small trees native to tropical and southern Africa and tropical Asia .
Coffea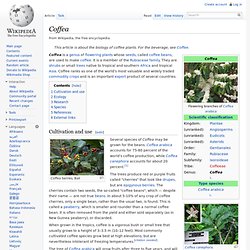 Erythroxylum coca is one of two species of cultivated coca . [ edit ] Description The coca plant resembles a blackthorn bush , and grows to a height of 2–3 m (7–10 ft). The branches are straight, and the leaves, which have a green tint, are thin, opaque, oval, and taper at the extremities. A marked characteristic of the leaf is an areolated portion bounded by two longitudinal curved lines, one line on each side of the midrib, and more conspicuous on the under face of the leaf.
Coca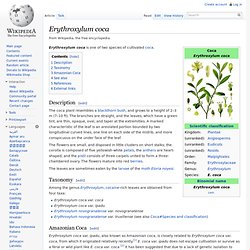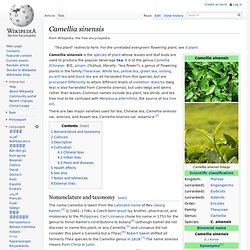 Camellia sinensis is the species of plant whose leaves and leaf buds are used to produce the popular beverage tea . It is of the genus Camellia ( Chinese : 茶花 ; pinyin : Cháhuā, literally: "tea flower" ), a genus of flowering plants in the family Theaceae . White tea , green tea , oolong , pu-erh tea and black tea are all harvested from this species, but are processed differently to attain different levels of oxidation . Kukicha (twig tea) is also harvested from Camellia sinensis , but uses twigs and stems rather than leaves. Common names include tea plant, tea shrub, and tea tree (not to be confused with Melaleuca alternifolia , the source of tea tree oil ).
Camellia sinensis
Artemisia absinthium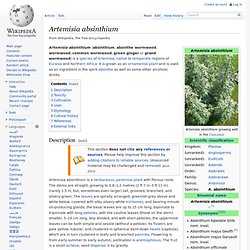 Artemisia absinthium ( absinthium , absinthe wormwood , wormwood , common wormwood , green ginger or grand wormwood ) is a species of Artemisia , native to temperate regions of Eurasia and northern Africa. It is a herbaceous , perennial plant with fibrous roots. The stems are straight, growing to 0.8–1.2 metres (2 ft 7 in–3 ft 10 in) (rarely 1.5 m, but, sometimes even larger) tall, grooved, branched, and silvery-green. The leaves are spirally arranged, greenish-grey above and white below, covered with silky silvery-white trichomes , and bearing minute oil-producing glands; the basal leaves are up to 25 cm long, bipinnate to tripinnate with long petioles , with the cauline leaves (those on the stem) smaller, 5–10 cm long, less divided, and with short petioles; the uppermost leaves can be both simple and sessile (without a petiole). Its flowers are pale yellow, tubular, and clustered in spherical bent-down heads (capitula), which are in turn clustered in leafy and branched panicles .
(Part of an Exclusive WebEcoist Series on Amazing Trees, Plants, Forests and Flowers ) From marijuana to catnip, there are hundreds of remarkably common herbs, flowers, berries and plants that serve all kinds of important medicinal and health purposes that might surprise you: anti-inflammatory, anti-fungal, insect repellent, antiseptic, expectorant, antibacterial, detoxification, fever reduction, antihistamine and pain relief. Here are eighteen potent medical plants you're likely to find in the wild – or even someone's backyard – that can help with minor injuries, scrapes, bites and pains.* Marijuana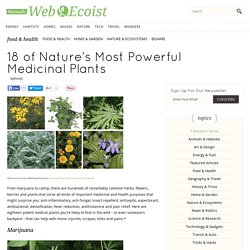 Lloyd Library and Museum
Online Books : "Golden Guide Hallucinogenic Plants" - pg 141-150