Information theory & theories of learning
Cognitive theories of learning. Gestalt psychology. Gestalt psychology or gestaltism (German: Gestalt – "shape or form") is a theory of mind of the Berlin School.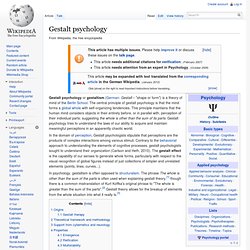 The central principle of gestalt psychology is that the mind forms a global whole with self-organizing tendencies. This principle maintains that the human mind considers objects in their entirety before, or in parallel with, perception of their individual parts; suggesting the whole is other than the sum of its parts. Schema (psychology) In psychology and cognitive science, a schema (plural schemata or schemas) describes an organized pattern of thought or behavior that organizes categories of information and the relationships among them. [1] It can also be described as a mental structure of preconceived ideas, a framework representing some aspect of the world, or a system of organizing and perceiving new information.[2] Schemata influence attention and the absorption of new knowledge: people are more likely to notice things that fit into their schema, while re-interpreting contradictions to the schema as exceptions or distorting them to fit.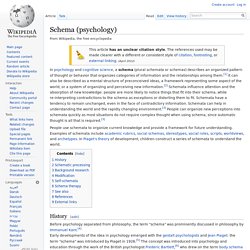 Schemata have a tendency to remain unchanged, even in the face of contradictory information. Schemata can help in understanding the world and the rapidly changing environment. [3] People can organize new perceptions into schemata quickly as most situations do not require complex thought when using schema, since automatic thought is all that is required. [3]
---