Prospective territoriale
Au-delà du design-fiction : le « design-friction » ? Le design fiction est probablement l'un des meilleurs outils actuels pour (ré)inventer le futur.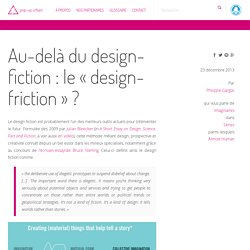 Formulée dès 2009 par Julian Bleecker (in A Short Essay on Design, Science, Fact and Fiction, à voir aussi en vidéo), cette méthode mêlant design, prospective et créativité connaît depuis un bel essor dans les milieux spécialisés, notamment grâce au concours de l'écrivain-essayiste Bruce Sterling. Celui-ci définit ainsi le design fiction comme « the deliberate use of diegetic prototypes to suspend disbelief about change. [...]
Lidoli abaque : Un outil pour la prospective utilisant le principe l'Abaque de Régnier. Le Dictionnaire du Futur - Les mots de demain et après-demain. Prospective. PROSPECTIVE. Prospective. Futurism. "Prospectivistes". Prospective découverte.
---