Prospective territoriale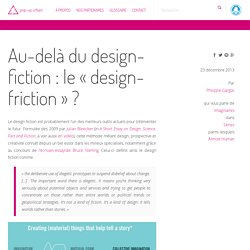 Au-delà du design-fiction : le « design-friction » ?
Le design fiction est probablement l'un des meilleurs outils actuels pour (ré)inventer le futur. Formulée dès 2009 par Julian Bleecker (in A Short Essay on Design, Science, Fact and Fiction, à voir aussi en vidéo), cette méthode mêlant design, prospective et créativité connaît depuis un bel essor dans les milieux spécialisés, notamment grâce au concours de l'écrivain-essayiste Bruce Sterling. Celui-ci définit ainsi le design fiction comme « the deliberate use of diegetic prototypes to suspend disbelief about change. [...]
Lidoli abaque : Un outil pour la prospective utilisant le principe l'Abaque de Régnier
From Régnier to Lidoli François Régnier came up with his patented abacus in 1973, while leading sessions on case studies with researchers and futures groups within the medical sector. He realized some ideas with high value added were simply not expressed during meetings. His solution was the abacus principle so that group representations on a particular subject could be teased out, discussed and debated using a colored voting system. The result is similar to a traffic-light reaction to statements like "health education is for specialists only".