Sindicació de continguts
Hace unos días George Siemens fue entrevistado por José Mota en el contexto de actividades del Laboratorio de Educación a Distancia y eLearning de , José Mota lo difundió de forma pública, en Google+. Como consecuencia se produjo un interesante dialogo entre el entrevistador, el entrevistado, Stephen Downes, y el titular de este blog.
Conectivismo y aprendizaje, un dialogo crítico ¿Entramos en detalles?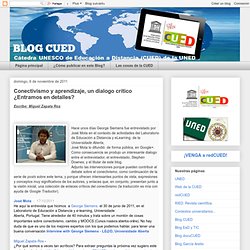 Connectivism: A Learning Theory for the Digital Age December 12, 2004 George Siemens Update (April 5, 2005): I've added a website to explore this concept at www.connectivism.ca Introduction Behaviorism, cognitivism, and constructivism are the three broad learning theories most often utilized in the creation of instructional environments.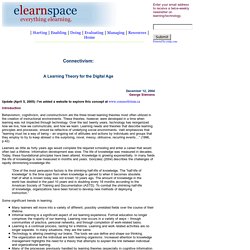 Ikaskidetza Sarea, Ikaskuntza informala ikertzeko proiektua Xehetasunak Noiz sortua: Azteazkena, 08 Urtarrila 2014 21:49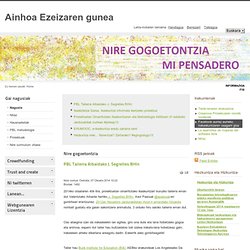 El espacio de Ainhoa Ezeiza