More Project Management Systems
Apollo is project and contact management done right. Using Apollo, you will realise that it's built to help you get things done, quickly and efficiently. With Apollo, you will always know where your projects, your contacts and your life are at and you will feel on top of everything — regardless of how hectic your schedule is.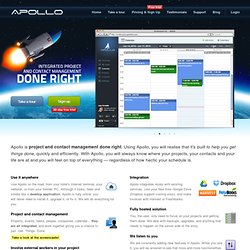 XPlanner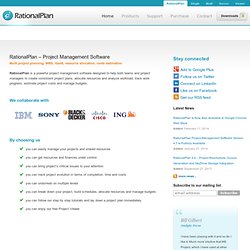 RationalPlan - Project Management Software, Multi Project Planning Software
Multi project planning, WBS, Gantt, resource allocation, costs estimation RationalPlan is a powerful project management software designed to help both teams and project managers to create consistent project plans, allocate resources and analyze workload, track work progress, estimate project costs and manage budgets. We collaborate with By choosing us you can easily manage your projects and shared resources you can get resources and finances under control you can bring project's critical issues to your attention you can track project evolution in terms of completion, time and costs you can undo/redo on multiple levels you can break down your project, build schedules, allocate resources and manage budgets you can follow our step by step tutorials and lay down a project plan immediately you can enjoy our free Project Viewer
Pivotal Tracker - Simple, Effective Agile Project Management & Team Collaboration, from Pivotal Labs
Writing software isn't half as hard as all the talking, emails, and meetings needed to reconcile shifting requirements and slipping deadlines. We get it, we've been there. In fact, we're still there. We're Pivotal Labs, a web and mobile development consultancy. In 2006 we built Tracker for our developers and clients to facilitate constructive communication, reflect the status of a project and help forecast its future. Today Tracker is a staple of the developer's toolkit.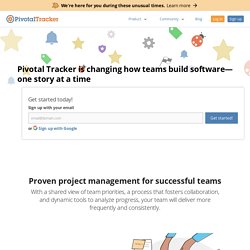 Manage todo's and activities Assign and remember tasks. Manage priorities. Delegate work.
Collaborative Project Management Software | Planzone