Sewing & Needlework
Art, patterns and techniques | Needlework News | CraftGossip.com
Zip your earbuds
Eye on Fashion: DIY lab: the cage crop top
I lined the straps of my dress by sewing two identical pieces together in a tube and closing one end and sewing the open end in to the seam of the dress which worked really well. It makes the dress a little hotter but creates a nicer finish. To make a nicer seam just cut both halves in one piece and fold in half then sew and sew the folded seam so that it is the side in the middle of the dress.
, this time with Isabela (5).
Cozy up with a Blanket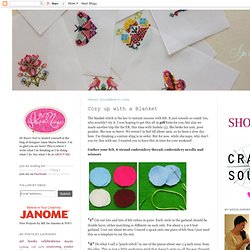 thimble
Finger puppets for all reasons!
Once upon a time, there was a pair of number 3mm knitting needles, several scaps of coloured yarn, a darning needle, some embroidery floss - and an inquisitive child, longing to learn something new and have fun at the same time!
(this post was originally published on 29 june, 2006, with the title "one seam convertible dress".)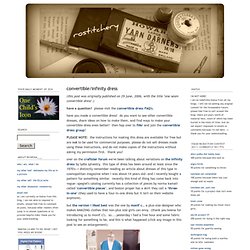 today i am crocheting little flowers getting ready for my art group tonight. we are making crochet flower necklaces like the one lori gardner made.
artful thursdays #19....crochet flower tutorial