Conservative Views
Project Gunrunner: Obama's Stimulus-Funded Border Nightmare by Michelle Malkin on Creators
Zeituni Onyango, President Obama's illegal alien aunt, died this week of cancer and other complications. I hope she rests in peace. America, however, should be up in arms. Auntie Zeituni is an enduring symbol of all that is wrong with this country's immigration "policy" — or rather, its complete lack of a coherent, enforceable system of laws and rules that puts the national interest first. She was a beneficiary of the welfare state run amok, enabled by bipartisan fecklessness.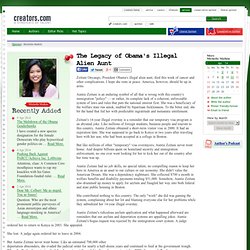 Patriot Action Network
Patriot Action Network is one of the nation's largest conservative social action networks, serving hundreds of thousands of citizens every month. We are united by our passion for re-establishing Constitution-based liberty and limited government through dialogue, debate, legislation and elections. Not only is the Patriot Action Network the LARGEST active social hub of the Patriot Movement… we're also the official social action network of Grassfire Nation and the 1.8 MILLION PATRIOT members of Grassfire.com. Send A Powerful Message That Can't Be Missed! Grassfire Nation (our parent organization) has taken our revolutionary "Re-Stickers"™ — the best stickers on earth — and created a giant, rear-window "Don't Tread On Me" version that sends the biggest and strongest message possible.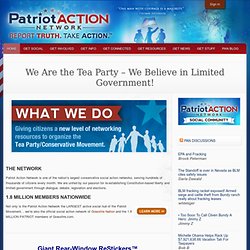 The Patriot Post: Voice of Essential Liberty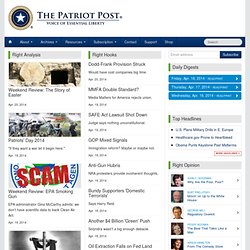 The question remains: Who's responsible for the bogus YouTube video story? The Department of Justice bullies another bank over "discrimination." The only people benefiting from unemployment insurance are Democrats who collect the votes. Listening in on every single American phone call has nabbed all of four terrorists. The Left canonizes "victims" of so-called "hate crimes" in order to expand voter constituencies.
RNC: Republican National Committee
Conservative Blog & Conservative News Source for Right of Center Activists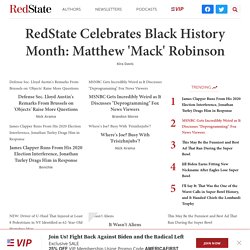 Just a few months after Missouri's Governor Jay Nixon vetoed a small but beneficial income tax cut, totaling $700 million over 10 years (barely larger than the one-year value of recent cuts in North Carolina), the Governor convened a special session to provide tax carve-outs for aircraft manufacturer, Boeing. Read More » On today's edition of Coffee and Markets, Brad Jackson and Ben Domenech are joined by Francis Cianfrocca to discuss the debate over income inequality, the difference between rich and poor in America and if there is a way to bridge the gap. Read More »
DickMorris
Patrick J. Buchanan: Conservative Articles
The Official Home of Lou Dobbs On The Web
January 8, 2014 With Republicans tying themselves in knots over the Democrats' destructive, but superficially appealing, demand that unemployment benefits be extended to two and a half years, I return to my suggestion that Republicans stop playing defense and go on offense. For every issue that MSNBC loves to prattle on about, gloating that it will cost Republicans this or that demographic, there's an equivalent issue to use against the Democrats. (The difference is: Our proposals would actually be good for the country.) In addition to my repeated suggestion that Republicans introduce bills to institutionalize the dangerous mentally ill and force the Democrats to defend the right of psychos to crap in libraries and shoot up schools, Republicans should take the public's side on immigration. Democrats love to pretend their sucking up to illegals is all upside for them, but that's because they lie even when taking polls.
Welcome to AnnCoulter.com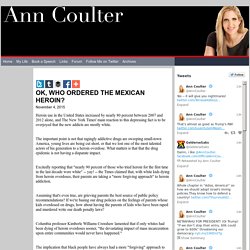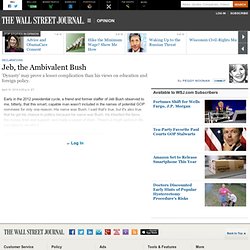 Early in the 2012 presidential cycle, a friend and former staffer of Jeb Bush observed to me, bitterly, that this smart, capable man wasn't included in the names of potential GOP nominees for only one reason: His name was Bush. I said that's true, but it's also true that he got his chance in politics because his name was Bush. He inherited the fame, the money lines and support, and made a career of them. There's a rough justice in life, you have to roll with it.
The Speech Obama Hasn't Given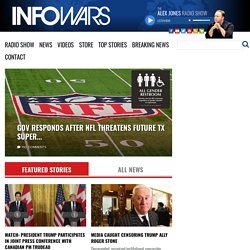 MIT Professor Exposes Climate Change Hysteria Mikael Thalen | "The opportunities for taxation, for policies, for control, for crony capitalism are just immense." Obama speech: Miller Lite commercial: less filling, tastes great
Alex Jones
DickMorris
Conservative Blog & Conservative News Source for Right of Center Activists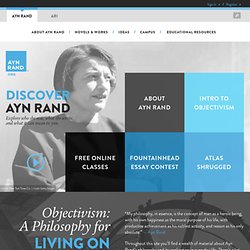 The Ayn Rand Institute: News and Highlights
Aynrand.org is the official website of the Ayn Rand Institute (ARI), the source for information on the life, writings and work of novelist-philosopher Ayn Rand. Headquartered in Irvine, California, ARI offers educational experiences based on Ayn Rand's books and ideas for a variety of audiences, including students, educators, policymakers and lifelong learners. ARI also engages in research and advocacy efforts, applying Rand's ideas to current issues and seeking to promote her philosophical principles of reason, rational self-interest and laissez-faire capitalism.
Patrick J. Buchanan: Conservative Articles
The Tea Party Express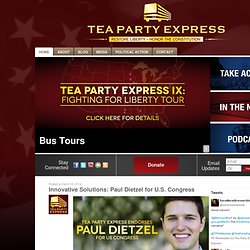 Sacramento, CA – Tea Party Express, the nation's largest Tea Party political action committee, announces this week's interview from "On the Campaign Trail with Tea Party Express" with State Sen. Lee Bright, candidate for U.S. Senate in South Carolina. Bright, who is taking on Republican Sen.
/*Theme Name: atlus_shrugsTheme URI: http://wordpress.org/themes/atlus_shrugsAuthor: the WordPress teamAuthor URI: http://wordpress.org/Description: The 2013 theme for WordPress takes us back to the blog, featuring a full range of post formats, each displayed beautifully in their own unique way. Design details abound, starting with a vibrant color scheme and matching header images, beautiful typography and icons, and a flexible layout that looks great on any device, big or small.Version: 1.0License: GNU General Public License v2 or laterLicense URI: http://www.gnu.org/licenses/gpl-2.0.htmlTags: black, brown, orange, tan, white, yellow, light, one-column, two-columns, right-sidebar, flexible-width, custom-header, custom-menu, editor-style, featured-images, microformats, post-formats, rtl-language-support, sticky-post, translation-readyText Domain: atlus_shrugs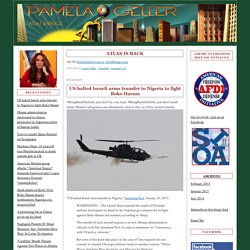 Atlas Shrugs
Welcome to AnnCoulter.com
BEGIN TRANSCRIPT RUSH: Now, Obama is in Virginia, he's got a campaign appearance going, and he just told a whopper. Grab sound bite five, by the way. He just told a whopper to the crowd. And, by the way, let's play sound bite five. This is what has caused this big change. The Romney video where he claimed that 47% of the voters are just beyond his reach, they don't pay taxes or whatever, you remember the video from May at a fundraiser.
Front Page News (News/Activism)
RUSH: The Republican leadership, the establishment, they're all upset 'cause I compared 'em, the RINOs, to wildebeests. Of all the things I said yesterday, that's the takeaway... If our political people inside the Beltway still to this day cannot predict what the left is gonna do with a scandal like this, if they do not understand, if they really think that a Republican could go out and end a scandal with a press conference, it tells me that they still don't know the nature of the enemy and what we're really up against.
Rush Limbaugh
Home