Humor Blogs
Blogs that make progressives LOL. Includes political humor, general humor, satire and political cartoons.

-Anyone interested in building this up as resource for all progressives are welcome to join this team. :) Sep 9
The Daily Show with Jon Stewart Official Website | Current Events & Pop Culture, Comedy & Fake News
The Rude Pundit
Colbert Nation | The Colbert Report
Prog Gold
Eric Lewis, Animal Nuz
American Newspeak
The Daily Dish | By Andrew Sullivan
Progressive Viewpoints
The Satirical Political Report
Do you enjoy great live acoustic music in an intimate setting?
Humor | Progressive Action Alliance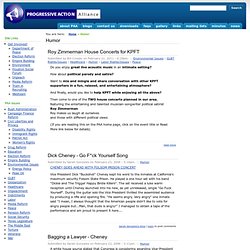 The Daily Show with Jon Stewart Official Website | Current Events & Pop Culture, Comedy & Fake News
Welcome to PurePolitics.com
The Humor Times – Cartoons & Humor for People Who Love to Laugh!
Home - Scootin' Through The USA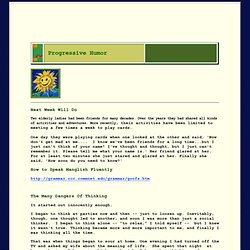 Next Week Will Do Two elderly ladies had been friends for many decades. Over the years they had shared all kinds of activities and adventures.
Progressive Humor
The Humor Gazette: satire on politics, pop culture, media, Obama, Palin, Fox, president, 2012, Bush, sex, technology
Erik Deckers' Laughing Stalk humor blog
The Political Carnival
CagleCartoons.com - Home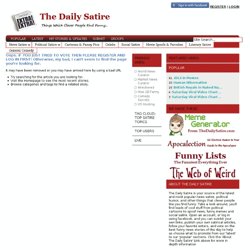 USA Polticial Satire | Popular | The Daily Satire
It may have been removed or you may have arrived here by using a bad URL Try searching for the article you are looking for. Visit the Homepage to see the most recent stories.
The DAILY RASH | All the news that's unfit to print
Humor and Hypocrisy from the World of Politics
SHITPLANET.ORG
While the general tone of this blog is on the crude side, and it IS the blogger's perogative to do so, never the less, it points out factual items of hypocracy and behind the scenes evil-doing in a variety of areas. It also has a wealth of links to explore. by kathologist Dec 17
The Old Bailey has witnessed extraordinary scenes this week, as the trial of ice cream vendor Bertram Fullock, the man accused of attempting to assassinate London Mayor Boris Johnson, unfolded.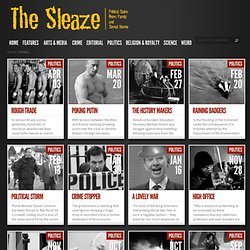 The Sleaze - Political Satire Stories From The Sleaze
Sorry, you can't go back any further!
US Headlines stories, spoof, satire and parody headlines
Tawdry Soup
Satire News -Fake News and Parody of Political and Cultural issues - also Serious Political Commentary and Editorial Articles
Jesus' General
Balloon Juice. "Forty-two," said Deep Thought, with infinite majesty and calm.
The Daily Beast
Opinions You Should Have
Mad Kane's Political Madness
Jon Swift Memorial Roundup 2013