Programming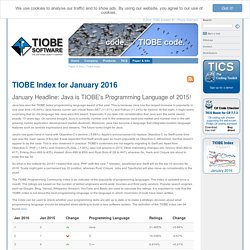 Ruby has taken over the ninth position of Perl. Thanks to this Ruby is now the third interpreted programming language that leaves Perl behind. The other two are PHP and Python. Is Perl on its way out of the top 10? Time will tell.
Programmers' Tools | Tools for real coders
Programmers' Tools | Tools for real coders
svnmerge.py is a tool for automatic branch management. It allows branch maintainers to merge changes from and to their branch very easily, and automatically records which changes were already merged. This allows displaying an always updated list of changes yet to be merged, and totally prevents merge mistakes (such as merging the same change twice). You can think of svnmerge as the equivalent of yellow sticky notes on a Subversion branch that record which revisions have been merged in already from one or more other branches, plus some useful functionality for viewing, managing and updating that information. See our feature list for a more detailed description.
about svnmerge.py for svn