Professional Learning
The Next Digital Decade: Essays on the Future of the Internet. Michael Fullan. You can do anything - but not everything. Three Trends That Define the Future of Teaching and Learning. Culture Digital Tools Teaching Strategies This week, we feature the most popular posts of the year on MindShift.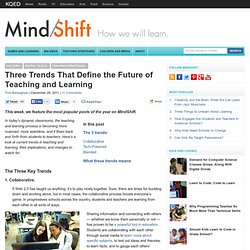 In today's dynamic classrooms, the teaching and learning process is becoming more nuanced, more seamless, and it flows back and forth from students to teachers. 60 Seconds - Things That Happen On Internet Every Sixty Seconds. World Wide Web is growing at rapid pace.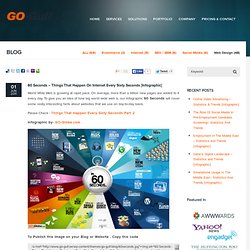 On average, more than a billion new pages are added to it every day. To give you an idea of how big world wide web is, our Infographic 60 Seconds will cover some really interesting facts about websites that we use on day-to-day basis. Please Check - Things That Happen Every Sixty Seconds Part 2 Infographic by- GO-Globe.com To Publish this Image on your Blog or Website . Www.tpck.org.
Australian Council for Educational Leaders: ACEL Home. Ed Tech Crew 196 - Australian Technologies Draft Curriculum | Ed Tech Crew. Educational Technology and Mobile Learning: The 21st century pedagogy teachers should be aware of. Interpersonal learning , personalized learning, second life learning , 3d learning, collaborative learning and virtual learning , these are just some of the few buzz words you would be be reading so often in today's educational literature.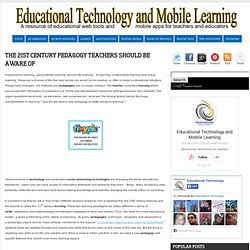 Things have changed , old methods and pedagogies are no longer relevant. The teacher-controlled learning where pre-constructed information is presented in a formal and standardized classroom settings becomes very obsolete. New culture of learning. Docs/wheel.pdf. The Differentiator. Try Respondo!
→ ← Back to Byrdseed.com The Differentiator The Differentiator is based on Bloom's Taxonomy, Sandra Kaplan's Flip Book and Flip Book, Too, and David Chung's product menu. Try It In French • Tweet It • Like Byrdseed • Pin It. Um-bloom-ra Bloom's Taxonomy. Last week I blogged about my Bloomin' Peacock, a new Bloom's Taxonomy visual I made to share with teachers in a training.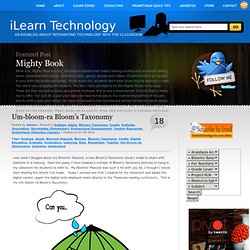 Over the years, I have created a number of Bloom's Taxonomy pictures to hang in my classroom for students to refer to. My Bloomin' Peacock was such a hit with you all, I thought I would start sharing the others I've made. Today I revived one that I created for my classroom and added the digital version (again the digital tools displayed relate directly to the Treasures reading curriculum).
A Model of Learning Objectives. A statement of a learning objective contains a verb (an action) and an object (usually a noun).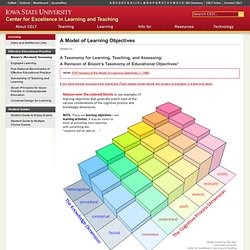 The verb generally refers to [actions associated with] the intended cognitive process. The object generally describes the knowledge students are expected to acquire or construct. Blooms Document. Bloom's, The 21st Century Version. So much have been written about Bloom's taxonomy; one click in a search engine will flood your page with hundreds of articles all of which revolve around this taxonomy.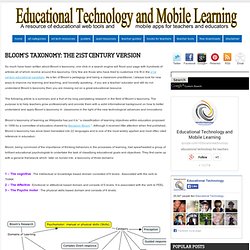 Only few are those who have tried to customize it to fit in the 21st century educational paradigm. As a fan of Bloom's pedagogy and being a classroom practitioner, I always look for new ways to improve my learning and teaching, and honestly speaking , if you are a teacher/ educator and still do not understand Bloom's taxonomy then you are missing out on a great educational resource. The following article is a summary and a fruit of my long painstaking research in the field of Bloom's taxonomy. The purpose is to help teachers grow professionally and provide them with a solid informational background on how to better understand and apply Bloom's taxonomy in classrooms in the light of the new technological advances and innovations. Blooms Taxonomy for the Web. Kathy Schrock's Guide to Everything - Bloomin' Apps. This page gathers all of the Bloomin' Apps projects in one place.Each image has clickable hotspots and includes suggestions for iPad, Google, Android, and Web 2.0 applications to support each of the levels of Bloom's Revised Taxonomy.I have created a page to allow you to share your favorite Web 2.0, iOS, or Android app with others.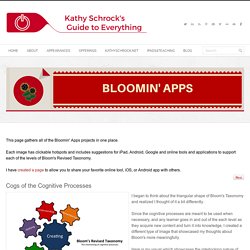 Cogs of the Cognitive Processes Option 1 I was recently reflecting on the triangular shape the Bloom's taxonomies utilize. Since the cognitive processes are meant to be used when necessary, and any learner goes up and down the categories as they create new knowledge, I was thinking another type of image might be more explanatory.Here is my draft of the idea of the "interlocking of the cognitive processes" or the "Cogs of Cognition".
Bloom's and SAMR: My thoughts. Bloom's Taxonomy and iPad Apps | Langwitches Blog | GSHP eLearning.
---