Productivity
iphone - How do I use the ios 4.2 base sdk using Xcode 4.2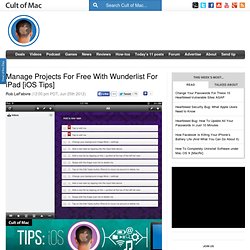 Keeping your projects organized is hard; whether they're for home, school, or work, projects tend to take on a life of their own. A good task manager can be essential to keeping the project moving, on time, and with a minimum of stress. wunderlist is available for the iPad, is free, and has some great features to boot, making it an obvious choice for many of us who need to manage our projects better. Once you've downloaded and installed wunderlist, it should open to a dual-paned view, with Lists on the left and tasks on the right.
Ayasofya - Hagia sophia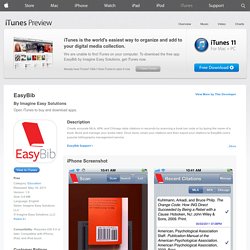 Description Create accurate MLA, APA, and Chicago style citations in seconds by scanning a book bar code or by typing the name of a book.
Introduction Welcome to Socrative.com. This website is owned and operated by Socrative.com. By visiting our website and accessing the information, resources, services, products, and tools we provide, you understand and agree to accept and adhere to the following terms and conditions as stated in this policy (hereafter referred to as 'User Agreement'). This agreement is in effect as of Dec 28, 2010.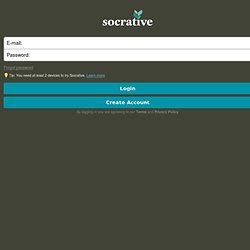 eClicker
TeacherPal - Teaching Companion
TouchDraw
I believe that TouchDraw is only supported by iOS devices. Android and PCs are not supported. by avalent Jul 25
Does this actually work for any device by raifranco Jul 25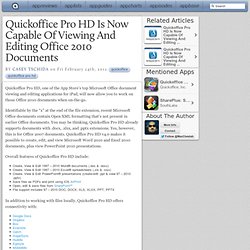 Quickoffice Pro HD Is Now Capable Of Viewing And Editing Office 2010 Documents
Quickoffice Pro HD, one of the App Store's top Microsoft Office document viewing and editing applications for iPad, will now allow you to work on those Office 2010 documents when on-the-go. Identifiable by the "x" at the end of the file extension, recent Microsoft Office documents contain Open XML formatting that's not present in earlier Office documents. You may be thinking, Quickoffice Pro HD already supports documents with .docx, .xlsx, and .pptx extensions. Yes, however, this is for Office 2007 documents. Quickoffice Pro HD v4.0 makes it possible to create, edit, and view Microsoft Word 2010 and Excel 2010 documents, plus view PowerPoint 2010 presentations.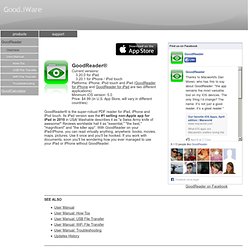 By popular demand, the switch that allows to choose between new and old PDF displaying engines is available in Settings. Switch back to the original GoodReader PDF engine if for some reason the new one doesn't work for you. Introducing Higher quality images switch in Settings for PDF files.
I hope they appreciate their happy, loyal following. This feedback thread has convinced me to try it! Thx for all the infos … dare I say, "pearls of wisdom"? *cheesy* by smpdifri Jul 27
There are other mapping apps in the Internet. I stayed with mindmeister because I started using their service almost from the start of their company. I've become familiar with it and they offer 'free' accounts that my students can use. Other services don't provide free accounts or lack features that I desire. Choose the service that suits your needs and circumstances. by avalent Feb 27