Productivity
Iphone - How do I use the ios 4.2 base sdk using Xcode 4.2. Subtext. Description -ENGAGE YOUR CLASS IN ANY EBOOK, PDF, OR ARTICLE-Subtext(™) supports teachers in their Common Core instruction and helps students move closer to college and career readiness by encouraging them to analyze what they read, articulate what they think, and make connections between texts and the outside world.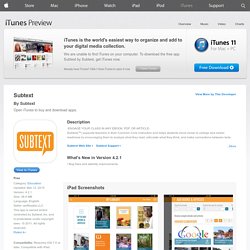 Teachers can embed instruction right in the pages of nearly any digital text. Because notes are linked to a specific passage, there's a natural emphasis on close reading, citing text evidence, and supporting claims. -READ ALMOST ANYTHING TOGETHER-• Any ePub or PDF• Any paid or free book from Google Play & Feedbooks (Volume Purchase Program available)• Web articles and nonfiction using the 'Save to Subtext' bookmarklet.
Manage Projects For Free With Wunderlist For iPad [iOS Tips. Keeping your projects organized is hard; whether they're for home, school, or work, projects tend to take on a life of their own.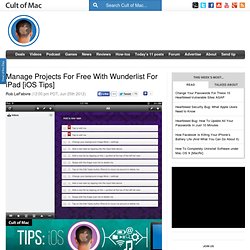 A good task manager can be essential to keeping the project moving, on time, and with a minimum of stress. wunderlist is available for the iPad, is free, and has some great features to boot, making it an obvious choice for many of us who need to manage our projects better. Once you've downloaded and installed wunderlist, it should open to a dual-paned view, with Lists on the left and tasks on the right. Welcome. Ayasofya - Hagia sophia. How it works. EasyBib. Description Create accurate MLA, APA, and Chicago style citations in seconds by scanning a book bar code or by typing the name of a book.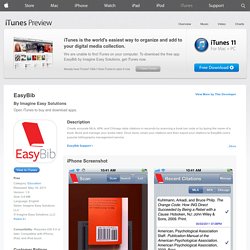 Build and manage your works cited. Once done, email your citations and then export your citations to EasyBib.com's popular bibliography management service. Works best with iPhone 4. Also works with iPad and iPod Touch, but camera on these devices requires that barcodes need to be held steady and at a proper distance for the scanner to pick up. OnLive Desktop. Socrative. Age Restrictions.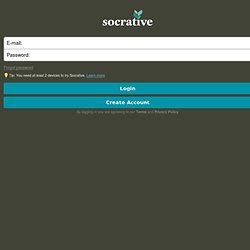 You may only use the Site and Services if you are: (i) at least 13 years of age; or (ii) if you are under 13 years of age, with the consent of your teacher or a legal parent or guardian. By using the Site and Services, you hereby represent and warrant that you are at least 13 years of age or, if you are under 13 years of age, that you have the consent of your teacher, legal parent, or guardian to use the Site and Services. Verification of Identity. You acknowledge that we may choose, but are not obligated, to make any inquiries, either directly or through third parties, that we deem necessary to validate any user's registration information, including without limitation engaging third parties to provide identity or other verification services.
Box. eClicker. TeacherPal - Teaching Companion. Springpad. TouchDraw. Book Creator | The simple way to create beautiful books on the iPad. Book Creator. Quickoffice Pro HD Is Now Capable Of Viewing And Editing Office 2010 Documents.
Quickoffice Pro HD, one of the App Store's top Microsoft Office document viewing and editing applications for iPad, will now allow you to work on those Office 2010 documents when on-the-go.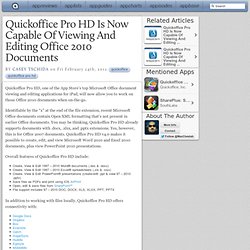 Identifiable by the "x" at the end of the file extension, recent Microsoft Office documents contain Open XML formatting that's not present in earlier Office documents. You may be thinking, Quickoffice Pro HD already supports documents with .docx, .xlsx, and .pptx extensions. Yes, however, this is for Office 2007 documents. Quickoffice Pro HD v4.0 makes it possible to create, edit, and view Microsoft Word 2010 and Excel 2010 documents, plus view PowerPoint 2010 presentations.
GoodReader. By popular demand, the switch that allows to choose between new and old PDF displaying engines is available in Settings.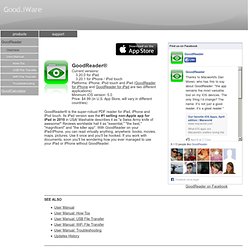 Switch back to the original GoodReader PDF engine if for some reason the new one doesn't work for you. Introducing Higher quality images switch in Settings for PDF files. MindMeister.
---