Monetizing your product
Subscription business models are becoming increasingly popular on the web.
9 SaaS Subscription-Billing Solutions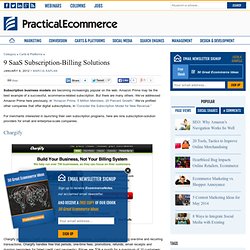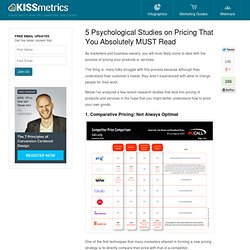 As marketers and business owners, you will most likely come to deal with the process of pricing your products or services. The thing is, many folks struggle with this process because although they understand their customer's needs, they aren't experienced with what to charge people for their work. Below I've analyzed a few recent research studies that dive into pricing of products and services in the hope that you might better understand how to price your own goods.
Learn How To Increase Your Conversions From These 5 Consumer Psychology Studies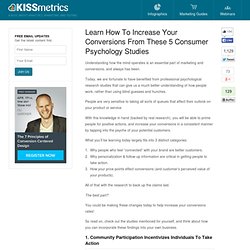 Understanding how the mind operates is an essential part of marketing and conversions, and always has been. Today, we are fortunate to have benefited from professional psychological research studies that can give us a much better understanding of how people work, rather than using blind guesses and hunches. People are very sensitive to taking all sorts of queues that affect their outlook on your product or service. With this knowledge in hand (backed by real research), you will be able to prime people for positive actions, and increase your conversions in a consistent manner by tapping into the psyche of your potential customers. What you'll be learning today largely fits into 3 distinct categories: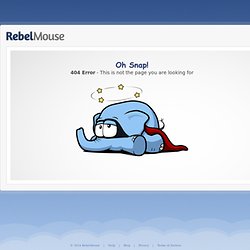 A lot of companies wait too long to monetize using the argument that they need scale. This is true for some businesses but the extent of scale needed is often exaggerated. In general, the long awaited monetization products fall short of expectations. Google is the one example everyone points to. Google took it's time and released a lightening in a bottle revenue product. But Facebook and Twitter?
Treating Revenue as Another Product - jonsteinberg
Revenue As Product (Part 2) - jonsteinberg
I've talked to about 3 entrepreneurs over the past week about making revenue a product line. Each was excited by the liberation that comes with that idea but expressed an undefined hesitancy. Check out the original post for context. I think the hesitancy from most entrepreneurs about experimenting early and often with revenue is fear of it killing the dream. Either theirs or those of their investors or potential Investors.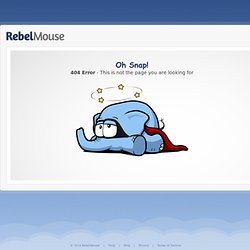 How Digg Found a Way to Make Money – GigaOM
Social networking behavior — endless repetitive page views, unvetted content — isn't a great fit for traditional forms of online advertising. Early attempts to bring search or brand ads onto sites like MySpace and Facebook had pathetic results compared the trajectories of the sites' popularity and attention. But now, a few years in, social media companies are starting to discover how to advertise to their own audience. And in the last five months, Digg has figured out a model that makes sense.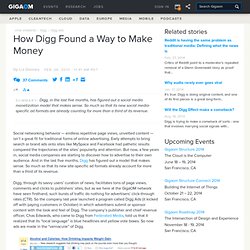 CHARTS OF THE WEEK: Here's How Much A Unique Visitor Is Worth