Processors
Just a pearl on processor hardware and architecture.
OpenSourceProcessors. Laptop, Notebook, Desktop, Server and Embedded Processor Technology - Intel. Global Provider of Innovative Graphics, Processors and Media Solutions | AMD. Arduino - HomePage. Arduino. Obecnie układy Arduino bazują na mikrokontrolerach Atmel AVR.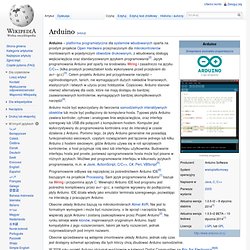 Nie jest to formalnym wymogiem i może być rozszerzony, o ile sprzęt i narzędzia będą wspierały język Arduino i zostaną zaakceptowane przez Projekt Arduino[2]. Na rynku istnieje wiele klonów, inspirowanych oryginalnym Arduino, bądź kompatybilne z jego rozszerzeniami, takimi jak karty rozszerzeń, jednak rozprowadzanych pod innymi nazwami. Obecnie sprzedawane są wstępnie zmontowane układy Arduino, jednak cały czas jest dostępny schemat sprzętowy dla tych którzy chcą zbudować Arduino samodzielnie.
---