Live
FRANCE 24 - Les espoirs des anti-Moubarak suspendus à la "journée du départ" Egypt protests – day of departure live updates | World news. Things remain quiet in Cairo for the time being – quiet enough for al-Jazeera to start running cricket items – other than a few bursts of gunfire in warning from the army, so it's time to wrap up the blog for the night.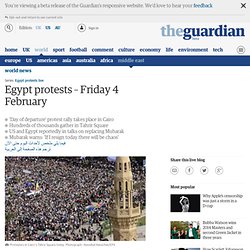 Here's a summary of the latest events: • Thousands of protesters remain in Cairo's Tahrir Square after a day that saw largely peaceful mass demonstrations throughout the country. Egypt unrest. Unrest in Egypt | Page 19. Egypt announces curfew of 6 p.m. to 7 a.m. in Cairo, Alexandria and Suez: State TV CNN reporting that Egyptian opposition leader Mohamed ElBaradei has been placed under house arrest.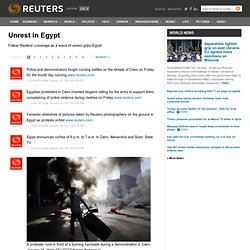 CNN also reporting that President Hosni Mubarak will soon speak CNN saying street curfew has now been effect for about 10 minutes in major Egyptian cities. RT @bencnn Massive cloud of tear gas at Zamalek end of 6 October Bridge..into the Nile. FRANCE 24 - Suivez la chaîne en direct. Bc video: Protesters pack Cairos central square.
---