Waterhouse
John William Waterhouse Paintings 50% Off | John William Waterhouse Paintings. Artist Information for John William Waterhouse. John William Waterhouse was born in Rome, and was always known by his family, and personal friends as Nino, the diminutive of the Italian Giovanino.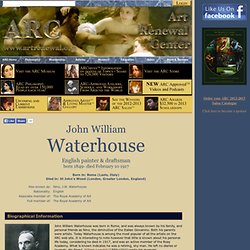 Both his parents were artists. Today Waterhouse is among the most popular of all the artists on the ARC web site. Waterhouse, John William. Waterhouse, John William (1849-1917).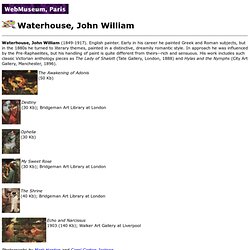 English painter. Early in his career he painted Greek and Roman subjects, but in the 1880s he turned to literary themes, painted in a distinctive, dreamily romantic style. In approach he was influenced by the Pre-Raphaelites, but his handling of paint is quite different from theirs--rich and sensuous. His work includes such classic Victorian anthology pieces as The Lady of Shalott (Tate Gallery, London, 1888) and Hylas and the Nymphs (City Art Gallery, Manchester, 1896). The Awakening of Adonis (50 Kb) John William Waterhouse. British, 1849 - 1917 185 pictures Click image to learn more about each picture, or send as a free e-card.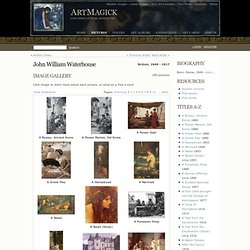 John William Waterhouse - Vanity. Ophelia Art by John William Waterhouse at AllPosters. Not Available Sorry, the specific item you were looking for is no longer available.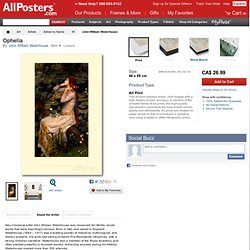 May we recommend the item below instead? Rossetti:" Ophelia" - Waterhouse inspired Pre-Raphaelite dress. Waterhouse was very fond of using the same gown on different models for different paintings.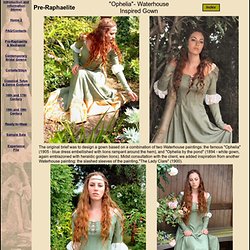 Miranda in "The Tempest" and "Fair Rosamund" both wear the same blue dress as the 1910 "Ophelia" in the woods (only Ophelia is adorned with heraldic symbols). "It was the time when Lilies blow, And clouds are highest up in air, Lord Ronald brought a lily-white doe, To give to his cousin, Lady Clare. I throw they did not part in scorn: Lovers long-betrothed were they: They two will wed the morrow morn,- God's blessing on the day! " Lady Clare: Alfred, Lord Tennyson As part of their promotion of the Waterhouse exhibition at the Royal Academy, and coinciding with the BBC's "Desperate Romantics", the Telegraph asked to use images of "Flaming Autumn" and "Ophelia".
Ophelia :: John William Waterhouse :: johnwilliamwaterhouse.com. Ophelia Date: 1889Medium: Oil on canvasSize: 38.5 x 62 in Waterhouse depicts Ophelia lying in a riverside meadow in an attitude of deranged abandon, one hand in her tousled hair, the other grasping flowers.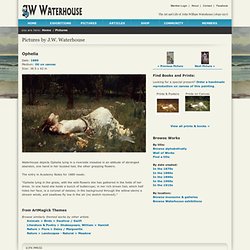 Waterhouse's Versions of Ophelia. Many artists painted Shakespeare's Ophelia, the tragic heroine of Hamlet, who became insane after Hamlet killed her father and deserted her.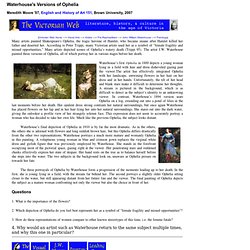 According to Peter Trippi, many Victorian artists used her as a symbol of "female fragility and missed opportunities," Many artists depicted scenes of Ophelia's watery death (Trippi 95). The artist J.W. Waterhouse painted three versions of Ophelia, all of which portray her in various stages before her death. Waterhouse's first Ophelia in 1889 depicts a young woman lying in a field with hair and dress disheveled gazing past the viewer.The artist has effectively integrated Ophelia with her landscape, entwining flowers in her hair on her dress and in her hands.
Welcome :: John William Waterhouse :: johnwilliamwaterhouse.com. John William Waterhouse: Comprehensive Painting Gallery of Artworks w Detail Descriptions, Location, Paintings Facts, and Poetry. « jwwaterhouse.com. Waterhouse - Oil Reproductions. John William Waterhouse (April 6, 1849 - February 10, 1917) Painter of classical, historical, and literary subjects.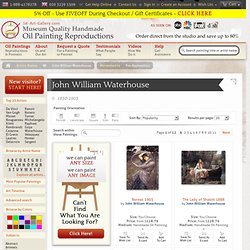 John William Waterhouse was born in 1849 in Rome, where his father worked as a painter. He was referred to as "Nino" throughout his life.
---