Podcasts
Cette perle propose une liste non exhaustive de "podcasts" auxquels il est possible de s'abonner afin de recevoir directement les nouveautés.
Il existe divers programmes pour s'abonner aux podcasts. Voir: http://fr.wikipedia.org/wiki/Podcasting ticeanglaisrouen May 3
Accueil > Formations et ressources > Liste des répertoires > Podcasts gratuits pour apprendre les langues Aller à cette ressource Recommander cette page à un(e) ami(e) Voici un répertoire de sites qui proposent gratuitement des flux de fichiers audio (ou vidéo) pour l'apprentissage de l'anglais, du français, de l'espagnol et d'autres langues.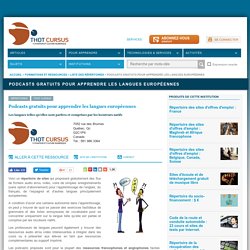 www.podclub.ch - Gerry's Diary (E)
www.podclub.ch - Gerry's News Digest
Dear Jeff, I'm Matteo from Italy. I learned the rules about polite email, so I'll try to be short. I just listened to your Podcast English Cafè N° 92 and finally decided to write to you. You provide us, the listeners, with a lot more than you think. You are able to make us feel "one of yours" just by listening to your voice three times a week.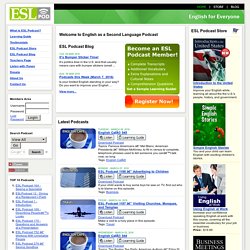 Audiolingua
Professionals Podcasts- British Council