Plateformes vision - outils (ex: proce55ing)
autodesk123 _ capture 3D easy
Blog
Groupes
faceAPI | Seeing Machines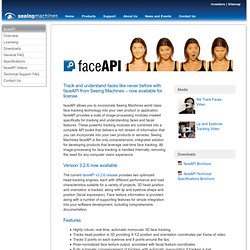 Track and understand faces like never before with faceAPI from Seeing Machines – now available for license. faceAPI allows you to incorporate Seeing Machines world class face tracking technology into your own product or application. faceAPI provides a suite of image-processing modules created specifically for tracking and understanding faces and facial features. These powerful tracking modules are combined into a complete API toolkit that delivers a rich stream of information that you can incorporate into your own products or services. Seeing Machines faceAPI is the only comprehensive, integrated solution for developing products that leverage real-time face tracking. All image-processing for face tracking is handled internally, removing the need for any computer vision experience. Version 3.2.6 now available
Do It Yourself - Hacking Real Life
applications téléchargeables
eyesweb - Google Custom Search
Do It Yourself - Hacking Real Life
handy AR
Overview The Handy AR presents a vision-based user interface that tracks a user's outstretched hand to use it as the reference pattern for augmented reality (AR) inspection, providing a 6-DOF camera pose estimation from the tracked fingertip configuration. A hand pose model is constructed in a one-time calibration step by measuring the fingertip positions relative to each other in presence of ground-truth scale information. Through frame-by-frame reconstruction of the camera pose relative to the hand, we can stabilize 3D graphics annotations on top of the hand, allowing the user to inspect such virtual objects conveniently from different viewing angles in AR. Fingertip Detection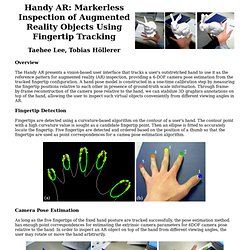 Il l'avait promis, c'est chose faite. Le petit génie indien Pranav Mistry rend accessible à tous dès aujourd'hui, le code source et les plans du hardware de son invention révolutionnaire, SixthSense. Tout le monde, mais surtout les plus avertis, va pouvoir concevoir dans sa remise le produit révolutionnaire de demain, car SixthSense vient tout juste d'être rendu public et complètement ouvert.
SixthSense devient open-source : du génie technologique en liberté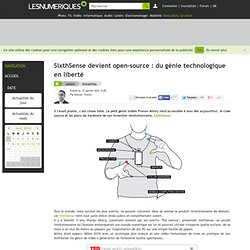 A revolutionary personal interface for human computer interacton.The Emotiv EPOC uses sensors to tune into electrical signals produced by the brain to detect user thoughts, feelings, and expressions. To develop your own applications for the EPOC, license an SDK to obtain our proprietary software toolkit. The Emotiv EEG a high resolution, multi-channel portable EEG system has all the benefits of EPOC plus access to raw EEG. Conduct research with EEG by licensing our Testbench software and SDK to obtain our proprietary software toolkit.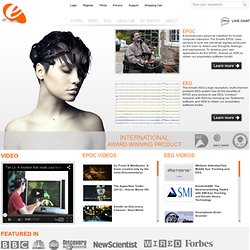 OpenViBE - Interaction cerveau-ordinateur
Animata is an open source real-time animation software, designed to create animations, interactive background projections for concerts, theatre and dance performances. The peculiarity of the software is that the animation - the movement of the puppets, the changes of the background - is generated in real-time, making continuous interaction possible. This ability also permits that physical sensors, cameras or other environmental variables can be attached to the animation of characters, creating a cartoon reacting to its environment.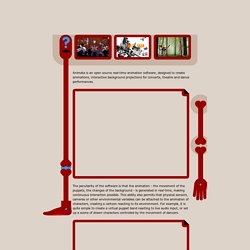 How to Control Animata With OSC from Max/MSP and Pure Data « Månsteri:::[mons-te-ri]
If you haven´t heard of Animata yet, you should head over to http://animata.kibu.hu/index.html and educate yourself. Download the software and go through the tutorials. I also recommend reading through the mailing list, it has tons of useful information. Controlling Animata with a mouse and doing real-time animations is pretty cool by itself, but Animata really shows its true potential when you control it with OSC.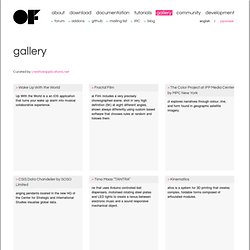 > Wake Up With the World Up With the World is a an iOS application that turns your wake up alarm into musical collaborative experience. > Fractal Film al Film includes a very precisely choreographed scene, shot in very high definition (5K) at eight different angles, shown always differently using custom based software that chooses rules at random and follows them. > Timo Maas "TANTRA"
Contributors Evan A. Suma, Belinda Lange, Skip Rizzo, David Krum, and Mark Bolas Project Email Address: faast@ict.usc.edu 32-bit(recommended for most users)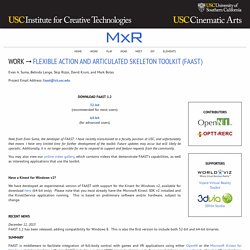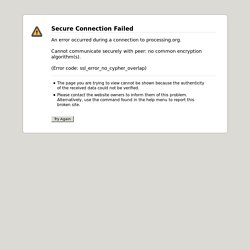 Download ProcessingPlay With ExamplesBrowse Tutorials Processing is a programming language, development environment, and online community. Since 2001, Processing has promoted software literacy within the visual arts and visual literacy within technology. Initially created to serve as a software sketchbook and to teach computer programming fundamentals within a visual context, Processing evolved into a development tool for professionals. Today, there are tens of thousands of students, artists, designers, researchers, and hobbyists who use Processing for learning, prototyping, and production. » Free to download and open source » Interactive programs with 2D, 3D or PDF output » OpenGL integration for accelerated 3D » For GNU/Linux, Mac OS X, and Windows » Over 100 libraries extend the core software » Well documented, with many books available
Exhibition Archives