PINTORES
Tribute to Escher
I aim to understand and, by my own vision, deny the view of the world, which is happening in only one point of space and time and introduces the logical dimension into the painter's surrounding. This condition that is offered to our reason and our perceptual experience is only one of numerous interpretations of the world. Even an objective picture of reality in a given moment reveals only one of its possible viewings. I attempt instead to encourage new creations, outside of the fenced world of perceptual experience; to convert dreams of reality to the reality of life.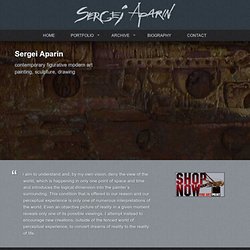 SERGEI APARIN - Fantastic Painting
ELAINE HUGHES art gallery of fine art impressionist oil paintings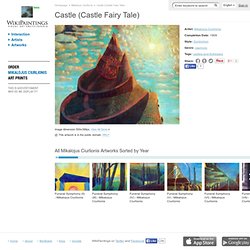 This artwork is in the public domain. Why? Funeral Symphony (II) - Mikalojus Ciurlionis Funeral Symphony (III) - Mikalojus Ciurlionis Funeral Symphony (IV) - Mikalojus Ciurlionis Funeral Symphony (V) - Mikalojus Ciurlionis Funeral Symphony (VI) - Mikalojus Ciurlionis Funeral Symphony (VII) - Mikalojus Ciurlionis Funeral Symphony (I) - Mikalojus Ciurlionis Consert - Mikalojus Ciurlionis Day - Mikalojus Ciurlionis Deluge (I) - Mikalojus Ciurlionis Deluge (IX) - Mikalojus Ciurlionis Deluge (VI) - Mikalojus Ciurlionis Use Full screen browser mode for best experience Due to copyright law restrictions this image is not available for your country
Castle (Castle Fairy Tale) - Mikalojus Ciurlionis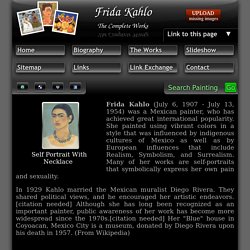 Frida Kahlo (July 6, 1907 - July 13, 1954) was a Mexican painter, who has achieved great international popularity. She painted using vibrant colors in a style that was influenced by indigenous cultures of Mexico as well as by European influences that include Realism, Symbolism, and Surrealism. Many of her works are self-portraits that symbolically express her own pain and sexuality. In 1929 Kahlo married the Mexican muralist Diego Rivera. They shared political views, and he encouraged her artistic endeavors.[citation needed] Although she has long been recognized as an important painter, public awareness of her work has become more widespread since the 1970s.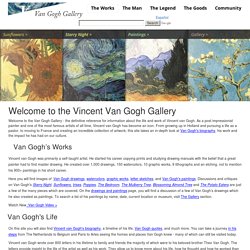 Skip to Content Welcome to the Van Gogh Gallery - the definitive reference for information about the life and work of Vincent van Gogh. As a post impressionist painter and one of the most famous artists of all time, Vincent van Gogh has become an icon. From growing up in Holland and pursuing a life as a pastor, to moving to France and creating an incredible collection of artwork, this site takes an in-depth look at Van Gogh's biography, his work and the impact he has had on our culture. Here you will find Van Gogh drawings, watercolors, graphic works, letter sketches, and Van Gogh's paintings. Discussions and critiques on Van Gogh's Starry Night, Sunflowers, Irises, Poppies, The Bedroom, The Mulberry Tree, Blossoming Almond Tree and The Potato Eaters are just a few of the many pieces which are covered on this site.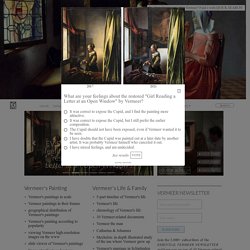 ESSENTIAL VERMEER TIME is an open door onto the spinning wheels, grinding cogs, ideas, inspirations, doubts and dreams that make the Essential Vermeer website run full steam ahead. You'll find opinions, the latest Vermeer news (practically real time) and information about what's currently under development and way down the pipeline. latest post: Vermeer Thefts CLICK HERE to access the latest Vermeer Newsletter The Girl with a Pearl Earring in America: Unraveling the Masterpiece Explore the mystery & get the facts with the Essential Vermeer interactive study.
Introductie De databank Rubens Online werd ontwikkeld door het Rubenianum. In deze eerste versie vind je alle werken van Rubens in Belgische openbare collecties. Ook werken die ooit in kerken en andere openbare gebouwen op het grondgebied te bezichtigen waren, worden uitgebreid beschreven.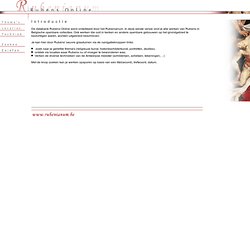 Rubens Online
Goya has inspired a multitude of artists, writers, critics, scholars and historians. The inheritance left by him continues to grow with the passage of time. On the 250th anniversary of his birth (1746-1996), Spain, Aragón, Zaragoza, Fuendetodos and other institutions around world-wide are paying homage to Goya by means of a wide and varied series of activities. The Institución Fernando el Católico and the University of Zaragoza, with the collaboration of Apple España, offer you a virtual tour of the artist's work and a journey through the places where he spent his life.
InfoGoya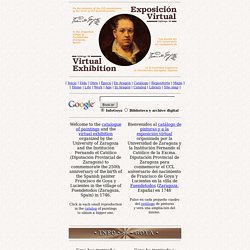 Plan du programme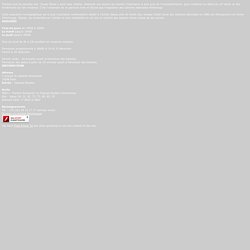 Pendant plus de soixante ans, Claude Monet a peint sans relâche, élaborant une oeuvre qui incarne l'expression la plus pure de l'impressionnisme, pour constituer au début du xx e siècle un des fondements de l'art moderne. C'est l'ensemble de ce parcours riche et fécond que l'exposition des Galeries nationales réinterroge. Cette exposition monographique est la plus importante manifestation dédiée à l'artiste depuis près de trente ans, lorsque s'était tenue aux Galeries nationales en 1980 une rétrospective en forme d'hommage. Depuis, les recherches sur l'artiste se sont multipliées et ont mis en lumière des aspects moins connus de son oeuvre.
Exposition Monet 2010 - RMN - Grand Palais - Paris
Welcome to Claude Monet's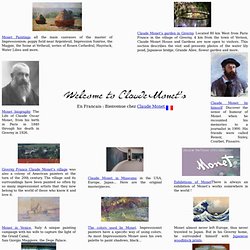 Monet Paintings all the main canvases of the master of Impressionism: poppy field near Argenteuil, Impression Sunrise, the Magpie, the Seine at Vetheuil, series of Rouen Cathedral, Haystack, Water Lilies and more. Claude Monet's garden in Giverny. Located 80 km West from Paris France in the village of Giverny, 4 km from the town of Vernon, Claude Monet House and Gardens are now open to visitors. This section describes the visit and presents photos of the water lily pond, Japanese bridge, Grande Allee, flower garden and more.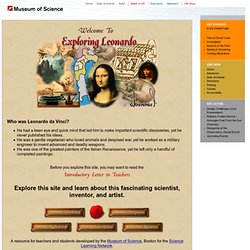 Who was Leonardo da Vinci? He had a keen eye and quick mind that led him to make important scientific discoveries, yet he never published his ideas. He was a gentle vegetarian who loved animals and despised war, yet he worked as a military engineer to invent advanced and deadly weapons.
SELECTED PAINTINGS BY MILTOS MANETAS, 1995-2010
Michelangelo.it
Graphic Prints / Art Prints ArtWorks :: PicassoMio
British poet Edith
Magritte - 3/5