PINTORES
Tribute to Escher
SERGEI APARIN - Fantastic Painting
ELAINE HUGHES art gallery of fine art impressionist oil paintings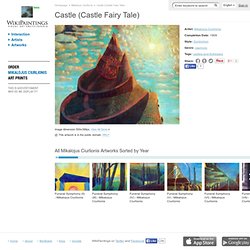 This artwork is in the public domain. Why? Funeral Symphony (II) - Mikalojus Ciurlionis Funeral Symphony (III) - Mikalojus Ciurlionis Funeral Symphony (IV) - Mikalojus Ciurlionis Funeral Symphony (V) - Mikalojus Ciurlionis Funeral Symphony (VI) - Mikalojus Ciurlionis Funeral Symphony (VII) - Mikalojus Ciurlionis Funeral Symphony (I) - Mikalojus Ciurlionis Consert - Mikalojus Ciurlionis Day - Mikalojus Ciurlionis Deluge (I) - Mikalojus Ciurlionis Deluge (IX) - Mikalojus Ciurlionis Deluge (VI) - Mikalojus Ciurlionis Use Full screen browser mode for best experience Due to copyright law restrictions this image is not available for your country
Castle (Castle Fairy Tale) - Mikalojus Ciurlionis
Rubens Online
InfoGoya
Plan du programme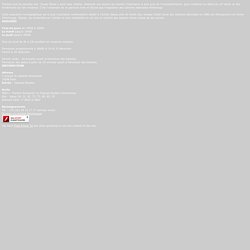 Pendant plus de soixante ans, Claude Monet a peint sans relâche, élaborant une oeuvre qui incarne l'expression la plus pure de l'impressionnisme, pour constituer au début du xx e siècle un des fondements de l'art moderne. C'est l'ensemble de ce parcours riche et fécond que l'exposition des Galeries nationales réinterroge. Cette exposition monographique est la plus importante manifestation dédiée à l'artiste depuis près de trente ans, lorsque s'était tenue aux Galeries nationales en 1980 une rétrospective en forme d'hommage. Depuis, les recherches sur l'artiste se sont multipliées et ont mis en lumière des aspects moins connus de son oeuvre.
Exposition Monet 2010 - RMN - Grand Palais - Paris
Welcome to Claude Monet's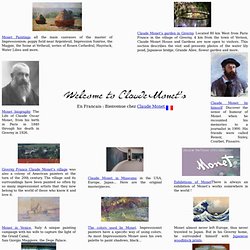 Monet Paintings all the main canvases of the master of Impressionism: poppy field near Argenteuil, Impression Sunrise, the Magpie, the Seine at Vetheuil, series of Rouen Cathedral, Haystack, Water Lilies and more. Claude Monet's garden in Giverny. Located 80 km West from Paris France in the village of Giverny, 4 km from the town of Vernon, Claude Monet House and Gardens are now open to visitors. This section describes the visit and presents photos of the water lily pond, Japanese bridge, Grande Allee, flower garden and more.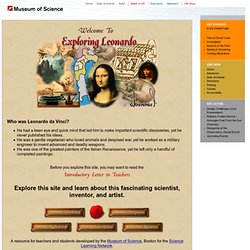 Who was Leonardo da Vinci? He had a keen eye and quick mind that led him to make important scientific discoveries, yet he never published his ideas. He was a gentle vegetarian who loved animals and despised war, yet he worked as a military engineer to invent advanced and deadly weapons.
SELECTED PAINTINGS BY MILTOS MANETAS, 1995-2010
Michelangelo.it
Graphic Prints / Art Prints ArtWorks :: PicassoMio
British poet Edith
Magritte - 3/5