Pinterest
How Can Your Business Benefit From Pinterest's New Analytics Tool? Last week Pinterest finally launched what many business users on the image-sharing network have been crying out for – its brand new web analytics.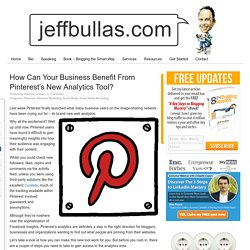 Why all the excitement? Well up until now, Pinterest users have found it difficult to gain meaningful insights into how their audience was engaging with their content. Whilst you could check new followers, likes, repins and comments via the activity feed, unless you were using third-party solutions like the excellent Curalate, much of the tracking available within Pinterest involved guesswork and assumptions. Although they're nowhere near the sophistication of Facebook Insights, Pinterest's analytics are definitely a step in the right direction for bloggers, businesses and organizations wanting to find out what people are pinning from their websites.
(9) Twitter. How to Measure Success on Pinterest. One of the beautiful things about social media marketing is that its reach and reaction can be tracked.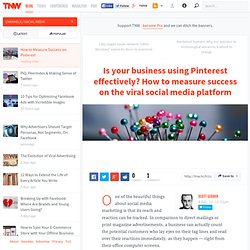 In comparison to direct mailings or print magazine advertisements, a business can actually count the potential customers who lay eyes on their tag lines and read over their reactions immediately, as they happen — right from their office computer screens. With that said, it's pointless to waste your payroll establishing a presence on a social media platform without accompanying your company efforts with a measurement plan.
This is especially important when exploring Pinterest, a relatively new — and particularly segmented — platform that can do wonders for a startup's brand and bottom line. Pinterest Mega Fact Sheet & Hacks. By now, Pinterest should be on everyone's mind, right?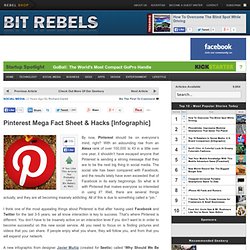 With an astounding rise from an Alexa rank of over 100,000 to 43 in a little over one year, it shouldn't have escaped anyone that Pinterest is sending a strong message that they are to be the next big thing in social media. The social site has been compared with Facebook, and the results lately have even exceeded that of Facebook in its early beginnings. How NOT To Use Your Pinterest Account - Justice Mitchell - Justice Mitchell - Articles, work, rants and advice from the nation's official socially integrated, creative, storytelli. Having started all willy-nilly with Pinterest like Joe-Joe the idiot circus boy, I put absolutely no thought into what I was doing while kicking the tires.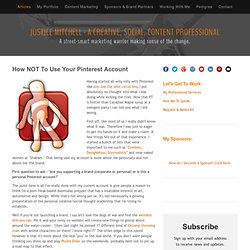 Now that PT is hotter than Canadian Maple syrup at a swingers party I can tell you what I did wrong. First off, like most of us I really didn't know what it was. Therefore I was just so eager to get my hands on it and stake a claim. Lawyer assesses Pinterest's copyright situation. Ways to get more from Pinterest | Pin Marketing. 27.4K Flares Twitter 615 Facebook 85 Google+ 56 StumbleUpon 26.3K Pin It Share 114 114 LinkedIn 137 inShare137 Email -- Email to a friend Buffer 24 27.4K Flares × If you are not over on Pinterest now, you need to get there.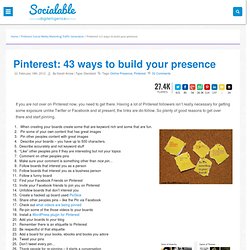 Having a lot of Pinterest followers isn't really necessary for getting some exposure unlike Twitter or Facebook and at present, the links are do-follow. How the Hospitality Industry Can Use Pinterest. Pinterest for Photographers: 5 Pinterest Boards Every Photographer Should Have. Pinterest is for women? You could try Gentlemint! A month ago now, I wrote about Pinterest asking if you have you signed up for Pinterest yet?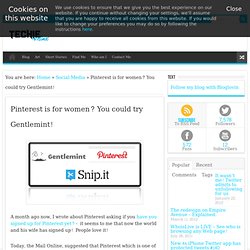 - it seems to me that now the world and his wife has signed up! People love it! Today, the Mail Online, suggested that Pinterest which is one of the fastest growing sites with 12 Million unique visitors (just in the US) could have over 97% female users. The TheBestofBarnstaple Daily. Why I Don't Mind Pinterest Hijacking My Links. Recently, Joel Garcia at GTO Management bought it to everyone's attention that everyone's new favorite social sharing site, Pinterest, is basically hijacking links to make money as an affiliate.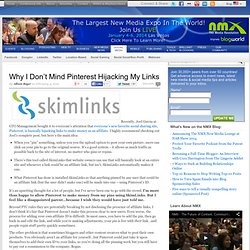 I highly recommend checking out Joel's complete post, but here's the main idea: When you "pin" something, unless you you the upload option to post your own picture, users can click on your pin to go to the original source. It's a good system – it allows as much traffic as possible back to the site of interest, no matter who pins or repins.There's this tool called SkimLinks that website owners can use that will basically look at an entire site and whenever a link could be an affiliate link, but isn't, SkimLinks automatically makes it one.What Pinterest has done is installed SkimLinks so that anything pinned by any user that could be an affiliate link (but the user didn't make one) will be made into one – using Pinterest's ID.
7 Examples of Brands That Pop on Pinterest. I'm sitting here next to an empty pan of mini red velvet donuts, and all I want to do is find another recipe to bake this weekend.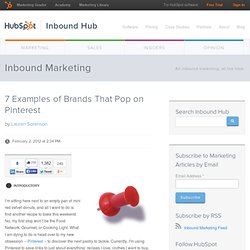 No, my first stop won't be the Food Network, Gourmet, or Cooking Light. What I am dying to do is head over to my new obsession -- Pinterest -- to discover the next pastry to tackle. Currently, I'm using Pinterest to save links to just about everything: recipes I love, clothes I want to buy, or furniture I want to furnish my house with someday.
As a 25-year-old graduate student, someday is a little farther off than I'd like, but it's best to be prepared. Since you already know how to use Pinterest for marketing, now you're probably craving some inspirational real-life examples of brands using it effectively. I'm Hooked! 10 Reasons Why Artists Love Pinterest. In case you do not know, Pinterest is the two-year old social bookmarking site that allows you to collect, upload and share all the beautiful things you find on the web.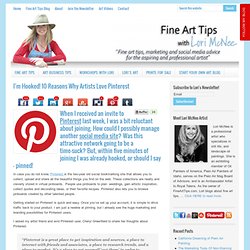 These collections are neatly and cleverly stored in virtual pinboards. People use pinboards to plan weddings, gain artistic inspiration, collect quotes and decorating ideas, or their favorite recipes. Pinterest also lets you to browse pinboards created by other talented people. Pinterest: A Beginner's Guide - SortaCrunchy. Please note: Due to changes in the Pinterest email invitation system, I am no longer able to send Pinterest invites.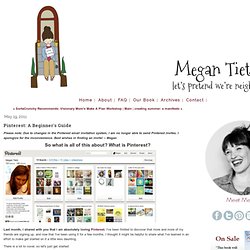 I apologize for the inconvenience. Best wishes in finding an invite! -- Megan Last month, I shared with you that I am absolutely loving Pinterest. I've been thrilled to discover that more and more of my friends are signing up, and now that I've been using it for a few months, I thought it might be helpful to share what I've learned in an effort to make get started on it a little less daunting. Installing Pin It button: Firefox. Pinterest: A Beginner's Guide - SortaCrunchy.
---