Lighting Effects
Advanced Glow Effects. In this tutorial, we're going to create some really sharp-looking glow effects using a combination of layer styles, the Pen Tool and Color Blending.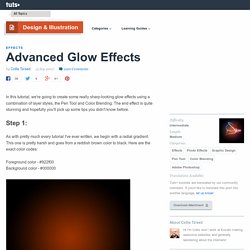 The end effect is quite stunning and hopefully you'll pick up some tips you didn't know before. Step 1: As with pretty much every tutorial I've ever written, we begin with a radial gradient. This one is pretty harsh and goes from a reddish brown color to black. Here are the exact color codes: Photoshop : bouton lumineux. 28 Powerful Photoshop Lighting Effects | Tutorials. There is something about beautiful lights that can mesmerize an audience.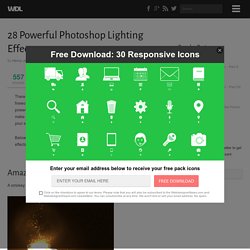 Take a fireworks show for example. It's been around for thousands of years, yet still has the power to put looks of amazement on faces of all ages. That's why lighting effects make such powerful design elements. They are a great way to grab the attention of your audience and leave a lasting impression. Below is a collection of the best Photoshop tutorials for creating powerful lighting effects.
Creating Smoke In Photoshop From Scratch (Noscope) As a fan of interface design, operating systems — Android, iOS, Windows — have always been a tremendous point of fascination for me.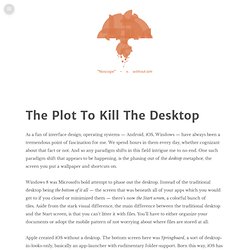 We spend hours in them every day, whether cognizant about that fact or not. And so any paradigm shifts in this field intrigue me to no end. One such paradigm shift that appears to be happening, is the phasing out of the desktop metaphor, the screen you put a wallpaper and shortcuts on.
---