Favourites
Tutorial-Index : Free Tutorials - Photoshop, Flash, Adobe, PHP, Video, and more
Η Ιστορια του www.teachme.gr Το www.teachme.gr ξεκίνησε σαν www.elislasop.com τον Απρίλιο του 2009 απο τον Ευάγγελο Βλασόπουλο και είχε σαν στόχο και σκοπό να δείξει στους Έλληνες όλου του κόσμου ότι τα δημιουργικά προγράμματα δεν είναι τόσο δύσκολα όσο φαίνονται! Έτσι απο τότε μέχρι και σήμερα, εκατοντάδες μαθήματα σε δεκάδες προγράμματα έχουν δημοσιευθεί και έχουν εκπαιδεύσει χιλιάδες ηλεκτρονικούς "μαθητές" απο την Ελλάδα και όλο τον κόσμο! Ένα μαθημα καθε ημερα! Το www.teachme.gr μπορεί να σας εγγυηθεί πως δεν θα κουραστείτε ποτέ, αλλά και ούτε ποτέ θα σας λείψουν τα μαθηματά του.
Photoshop | www.elislasop.com
About the designer Alexandra Fomicheva
My name is Alexandra Fomicheva. I have been interested in design from the early childhood and started from drawing and painting. As well as many children I was drawing relatives, friends and characters of cartoon films and fairy tales. Later the hobby became more serious and I went to art school where I spent 8 years.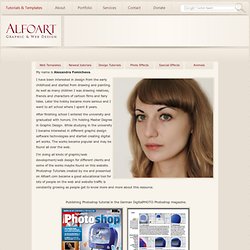 Jul 29 2010 Adobe Photoshop CS5 is a new, but experienced kid on the block. With its new powerful features, it provides designers with a flexible tool for printing, making a video or designing for the Web. Some of the features added in Photoshop CS5 are Puppet Warp, 3D extrusions with Adobe Repoussé, smart radius feature, Content-Aware Fill and Raw Image Processing, to name a few. In this post we showcase Adobe Photoshop CS5 tutorials from which you will learn a lot about different features of Adobe Photoshop CS5. Photoshop CS5 Tutorials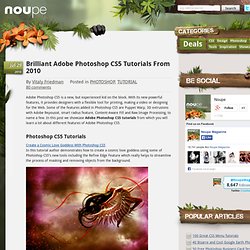 Graphic and web design are areas that thrive off the creation and manipulation of trends. If you've ever closely studied either area, you know there are many basic rules of thumb. From these basics spread many of today's newest trends. The gift and curse of trends are they're never a secret.