Photos "Creative commons"
unnamed pearl
unnamed pearl
Photo: free photo and free stock photo - Photoxpress
Frequently Asked Questions The Website What is PhotoXpress.com? PhotoXpress.com is a high quality, royalty-free image bank that offers digital images and illustrations to creative professionals. Our trusted network of photographers and partners continue to build the PhotoXpress.com image bank each and every day. Images from our collection may be used in brochures, advertisements, magazines, websites, etc.
Nothing makes a blog post more eye-catching than a great header image, but not all publishers have artistic talent. And even accomplished digital creatives often crave some found material to start from or work with in a project. Luckily for all of the above, sources abound for finding a compelling photo to grab your readers' eyes and draw them in, or to locate fresh multimedia to remix. Creative Commons search You may be familiar with the Creative Commons free licenses that aim to give creators more freedom to allow sharing and remixing of their content. If not, you can find out more about the history of the organization and the different types of licenses from their About page.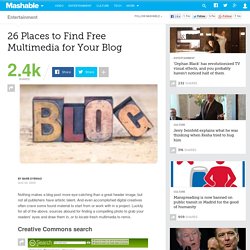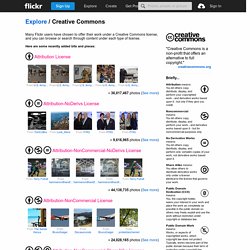 Many Flickr users have chosen to offer their work under a Creative Commons license, and you can browse or search through content under each type of license. Here are some recently added bits and pieces: Attribution License » 58,276,835 photos (See more) Attribution-NoDerivs License
Major Performance Upgrade 10.19.11 One of the ongoing challenges we have been facing is slow response time for uncached queries. This has been due mainly to trying to sort the results we send back, which often number in the many tens of thousands or more.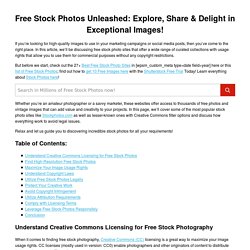 If you want to use these images: Go ahead. I've placed most of them in the public domain. However >>> While most of them are public domain, a few aren't. Be sure to read the license under each of the enlarged pictures.
PDPhoto.org - Free photos and pictures.
Download free and premium stock photos and illustrations for websites, advertising materials, newspapers, magazines, ebooks, book covers and pages, music artwork, software applications and much more. All our free images are of high quality, produced by our community of professional stock photographers and digital illustrators. Royalty free photos for business and personal use