Photos "Creative commons"
Untitled. Untitled. Photo: free photo and free stock photo - Photoxpress. Frequently Asked Questions The Website What is PhotoXpress.com?
PhotoXpress.com is a high quality, royalty-free image bank that offers digital images and illustrations to creative professionals. Our trusted network of photographers and partners continue to build the PhotoXpress.com image bank each and every day. Images from our collection may be used in brochures, advertisements, magazines, websites, etc. 26 Places to Find Free Multimedia for Your Blog. Nothing makes a blog post more eye-catching than a great header image, but not all publishers have artistic talent.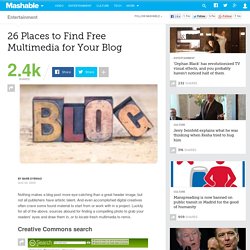 And even accomplished digital creatives often crave some found material to start from or work with in a project. Luckily for all of the above, sources abound for finding a compelling photo to grab your readers' eyes and draw them in, or to locate fresh multimedia to remix. Creative Commons search You may be familiar with the Creative Commons free licenses that aim to give creators more freedom to allow sharing and remixing of their content. If not, you can find out more about the history of the organization and the different types of licenses from their About page. Creative Commons Search. Yahoo! Search - Creative Commons Search.
Flickr : Creative Commons. Many Flickr users have chosen to offer their work under a Creative Commons license, and you can browse or search through content under each type of license.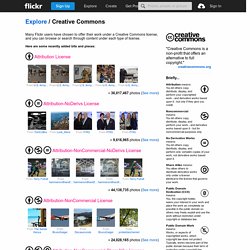 Here are some recently added bits and pieces: Attribution License » 58,276,835 photos (See more) Attribution-NoDerivs License. The leading free stock photography site. Untitled. Untitled. PD Photo - Free Photos And Pictures (public domain, stock pictur. PDPhoto.org - Free photos and pictures.
Openphoto since 1998. Untitled. PicFindr: Free stock photo and image search. Wikimedia Commons. Free Stock Photos at freerangestock.com - Totally Free Stock Pho.
---