Photo Tools
Photools.com IMatch for Photo Professionals. Since 2001 IMatch is the Image Management Solution of choice for photographers, graphic artists, librarians, scientists, insurance companies, the health-care industry and police, military and governmental users in over 60 countries.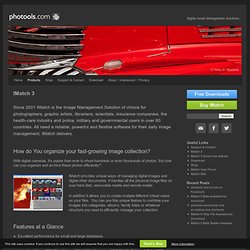 All need a reliable, powerful and flexible software for their daily image management. IMatch delivers. How do You organize your fast-growing image collection? With digital cameras, it's easier than ever to shoot hundreds or even thousands of photos. But how can you organize and archive these photos efficiently? 35mm slide scanning service film scanning professional service slides 35mm slide scanning service conversion digital digitize transfer CD DVD convert archive scaning services APS. Download « Luminance HDR. The Source Code of the program is freely available on the download page @ Sourceforge.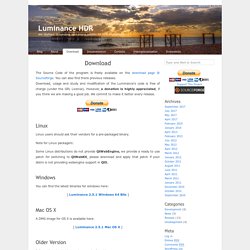 You can also find there previous releases. Download, usage and study and modification of the Luminance's code is free of charge (under the GPL License). DIYPhotography.net | Photography and Studio Lighting. HDR photography software & plugin for Lightroom, Aperture & Photoshop - Tone Mapping, Exposure Fusion & High Dynamic Range Imaging for photography.
---