Photo Magazines
Get flash to fully experience Pearltrees
Therefore ∴ Photography
cgunit
Black and WTF
Dorothy Gulliver in a publicity photo for The Collegians.
Plog
The Dark Hedges by Gary McParland
Recovering Lazyholic l Photography & Stuff by Erin Hanson
Conceptual photography inspiration from Brian Oldham
Imagine yourself in WWII - Wall to Watch
Computer wallpapers / wallbase.cc
http://www.bitemagazine.net/archives/
Microscope Photography Art Video Film Services Book Lectures Talks
Photography
One of the best known symbols of spring in Japan are the magnificent pink Japanese cherry trees, also called sakura.
500px is Photography
morgueFile free photos for creatives by creatives
The World Press Photo Of The Year Contest is one of the most prestigious annual events for press photographers.
World Press Photo Of The Year 2010
Most popular photography on StumbleUpon!
Unrealistic Scenes on Photography Served
Photography | UrbanPeek | Showcasing Everything Urban
Egypt-based photographer, director and editor Abd El Rahman Gabr, of Koree Films, (previously featured here and here), has sent us this morning an exclusive teaser for his upcoming timelapse short film entitled "EGYPT HD". The movie is aimed at exploring the most amazing and exotic locations in Egypt.
contemporary photography magazine
Old Pictures
Smashing Picture
the home of photojournalism
PULP ART BOOK
Magazine | International Photography Quarterly
burn magazine
Wild Scenics Pictures - stock photos
Browse more than 30,000 images of landscapes, nature, national parks, ancient and modern cultures, by QT Luong (San Jose CA) - including black and white , large format and panoramic , available as fine art prints , for image licencing , and computer wallpaper .
Photography
FlakPhoto.com | Photography Online
SocialDocumentary.net | Create and Explore Social Documentary Photography Websites
The Art Book: An Interview with Matt Johnston of the Photo Book Club | The Photo Book Club
I was interviewed recently by Sara Potter of ' The Art Book Group ' who have published a book on art books.
写真共有サイト:PHOTOHITO - 人と写真をつなぐ場所
The Photographers Hub
500px is Photography
scopio - International Photography Magazine
British Journal of Photography
photo-eye | Photography Magazine, Photo Bookstore, Photography Gallery, Rare Photobook Auctions, USA Photo Guide, VisualServer Websites for Artists
DEVELOP Tube: Photography to Watch on Vimeo
The Life of Peasants in Armenia by Mery Agakhanyan was part of Multimedia Night: Women in Multimedia, curated by Laura De Marco and Erica McDonald for Arte fiera, at Spazio Labo'|Center of Photography tinyurl.com/spaziolabo in Bologna, Italy, 1/28/2012. Women in Multimedia is a rich selection of multimedia projects by some of the most important women photographers on the international scene.
Naturpixel
Photos
This post has been updated - check out 150 unmissable photography sites for a much more comprehensive list! Of course, Photocritic is your favourite photography resource in the whole wide world, and you'd be mad to think otherwise. Nonetheless, I have to admit that there are some pretty damn amazing websites out there.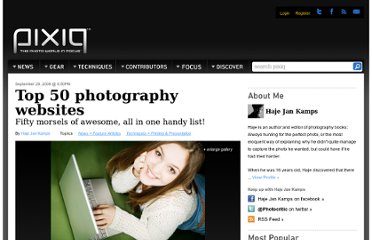 Top 50 photography websites
Noupe - The Curious Side of Smashing Magazine
In Pursuit of the Sublime
BabyAnimalz.com - Pictures of Cute Baby Animals and a couple ugly ones.
Fabulous Nature Pictures, Nature Photos and Nature Wallpapers
AlternativePhotography.com
Daily Awesome photos-Beautiful photos gallery
FFFFOUND!
The D-Photo | Photography inspiration & articles | Camera gear | post processing
By Alex Koloskov posted on
Top 13 "Milk Splash" images from the best photographers | Mastering Splash
TotallyCoolPix
Conscientious Extended
Pictures of Moments Speak More than Thousand Words......
Picture can speak thousands of words. Random pictures of insignificant moments always been the most important and most valuable. Photographers and painters beautifully imprint huge number of events, objects and types.
photography
We tend to love animals even from a very young age.
Digital Photography Review
Photo Journal
Charlie Haughey was drafted into the US Army in October of 1967. He was 24, and had been in college in Michigan before running out of money and quitting school to work in a sheet metal factory.
The Big Picture
F-Stop Magazine ~ An online photography magazine featuring contemporary photography from established and emerging photographers