PhotoShop
Get flash to fully experience Pearltrees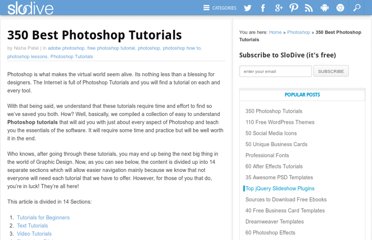 Photoshop is what makes virtual world alive. Its not less than a blessing for designers. Internet is full of Photoshop Tutorials and you will find tutorial on each tool. But we also understand that due to scarcity of time, its difficult for you to dive in this deep sea of tutorials to find out the gems. Thus we have collected this massive collection of 350 Photoshop Tutorials to save your time and effort. Now you can concentrate on learning the basic as well as advanced level tools used in Photoshop.
Photoshop actions are great. If you're not familiar with actions, they are simply prerecorded adjustments made to a Photoshop file that can be saved and applied to other projects. The concept is simple, but the process to create some actions can be very complicated. That's why using actions can be a huge time saver. With just a click of a button you can apply a complicated effect to a Photoshop file instantly.
Quite a bold statement, Learn Photoshop in 24 hours. Its simple and you can. Stepping into Photoshop at first can be quite daunting, were do you start? With these 20 tutorials we have given you some direction, you will start of with some very basic techniques and build towards the more advanced. By the end of it you will be an expert. Tutorial 1 : Combining Two Photos for New Effect – Basic
Subscribe to Photoshop Roadmap Newsletter. Enter your name and email address:
Using the Elliptical Marquee Tool , create a perfectly circular selection following the reference image to the left. TIP: To create a perfectly circular selection, press shift while making the selection. Using the Rectangular Marquee Tool , deselect half of the circular selection. TIP: To deselect portions of existing selections, take any selection tool and press alt while starting a new selection. The area this new selection encompasses will be removed from the existing selection.