Photo Montage
Ghosts of Amsterdam « How to be a Retronaut. Everyone wants to have a beautiful, clean, clear and flawless skin.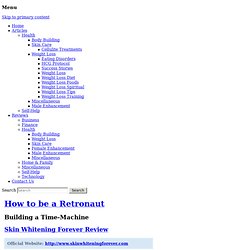 Having a beautiful skin not just make us look pretty, but also boost our confidence, especially in social gatherings. Healthy and beautiful skin means having a skin without any acne scars, age spots, pigmentation, blemishes and dark spots. In fact, in most parts of the world beauty is defined by the intensity of fair complexion, leading people to think about ways to lighten the skin. Market is flooded with thousands of products that claim to make you fairer in a few weeks.
Some of these products include skin whitening creams, skin whitening lotions and skin whitening soaps. Sergey_larenkov. Movement - Jata Haan - blip.tv. REFOTOGRAFIE.
---