Cloud Storage
YouSendIt Desktop and Mobile Apps Bring Business Power to Cloud File Sharing. Top 3 Free Cloud Storage Providers | TechNew.org. "I wandered lonely as a cloud That floats on high o'er vales and hills, When all at once I saw a crowd, A host, of golden daffodils;" If Sir William Wordsworth was alive today, he would have thought twice before using the simile 'wandered lonely as a cloud'.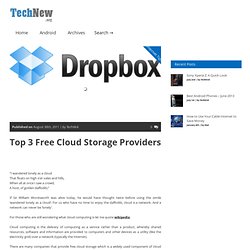 For us who have no time to enjoy the daffodils, cloud is a network. And a network can never be 'lonely'. For those who are still wondering what cloud computing is let me quote wikipedia. Cloud computing is the delivery of computing as a service rather than a product, whereby shared resources, software and information are provided to computers and other devices as a utility (like the electricity grid) over a network (typically the Internet). Cloud storage provider Symform adds $1M, plans HQ move in Seattle. Garg Symform, which made some waves earlier this week when it announced a new referral program in which customers can earn up to 200GB of free cloud storage, has pulled in an additional $1 million in venture capital financing.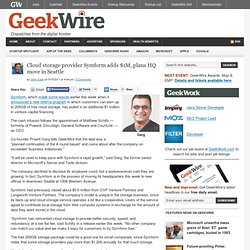 The cash infusion follows the appointment of Matthew Schiltz — formerly of Powerit, DocuSign, General Software and CourtLink — as CEO. Co-founder Praerit Garg tells GeekWire that the deal was a "planned continuation of the A round based" and came about after the company on exceeded "business milestones." Cloud Computing Companies, Top Cloud Computing Companies, Best Cloud Computing Companies. Free Online Backup Service Includes 200GB Free Cloud Storage - Symform. Free Online Storage - The Best Free Online Storage Sites. Free Cloud Storage Providers. Cloud Storage Cloud storage allows users to safely store their files on the internet.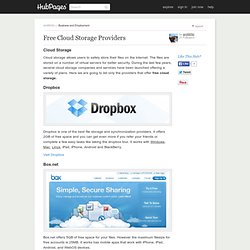 The files are stored on a number of virtual servers for better security. During the last few years, several cloud storage companies and services have been launched offering a variety of plans. Free Cloud Storage Providers - Get Cloud Storage for Free. Free: 100GB of cloud storage! I spoke to the ex-Microsofties, Parerit Garg and Bassam Tabbara, who founded Symform on a simple premise: the world's cheapest data storage is sitting unused inside your computer or on external USB disks.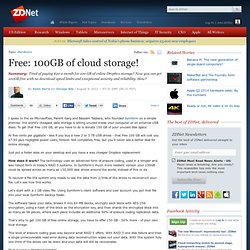 To get that free 100 GB, all you have to do is donate 150 GB of your unused disk space. At five cents per gigabyte - less if you buy a new 2 or 3 TB USB drives - that free 100 GB will cost you $7.50 plus negligible power costs, forever. Not completely free, but you'll never see a better deal for online storage. Just put a folder alias on your desktop and you have a way cheaper Dropbox replacement. How does it work? 15 Cloud Storage Sites. If you're waiting around for Apple's rollout of iCloud, don't overlook the current offering of sites to store your content in the cloud.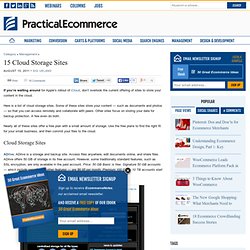 Here is a list of cloud storage sites. Some of these sites store your content — such as documents and photos — so that you can access remotely and collaborate with peers. Other sites focus on storing your data for backup protection. A few even do both. Nearly all of these sites offer a free plan with a small amount of storage. Into the Cloud: Our 5 Favorite Online Storage Services. Being able to access your files from anywhere and from any computer is one of the great conveniences of the always-on Internet.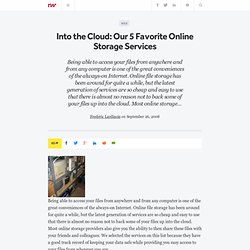 Online file storage has been around for quite a while, but the latest generation of services are so cheap and easy to use that there is almost no reason not to back some of your files up into the cloud. Most online storage providers also give you the ability to then share these files with your friends and colleagues. We selected the services on this list because they have a good track record of keeping your data safe while providing you easy access to your files from wherever you are. Box.net Box.net has been around for quite a while, but is still one of our favorite places to store documents online. Nine Cloud Storage Providers - Data Storage. Android Apple IT Management Networking More Slide Shows Video Blogs Research Center.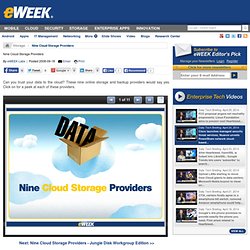 Hands-on: Google Cloud Connect for Office not ready for prime time. Google Docs, the online suite of productivity applications, has long offered collaborative, cloud-based sharing and editing of office-type documents.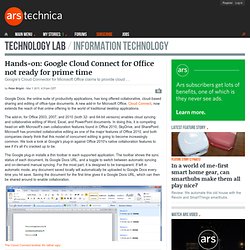 A new add-in for Microsoft Office, Cloud Connect, now extends the reach of that online offering to the world of traditional desktop applications. The add-in, for Office 2003, 2007, and 2010 (both 32- and 64-bit versions) enables cloud syncing and collaborative editing of Word, Excel, and PowerPoint documents. In doing this, it is competing head-on with Microsoft's own collaboration features found in Office 2010, SkyDrive, and SharePoint. Microsoft has promoted collaborative editing as one of the major features of Office 2010, and both companies clearly think that this model of concurrent editing is going to become increasingly common. Google Turns up the Heat on Microsoft Office. Google will intensify its attack on Microsoft's enterprise collaboration business with the release on Thursday of the Cloud Connect plug-in for Microsoft Office and with the launch of a trial program for the collaboration components of Google Apps.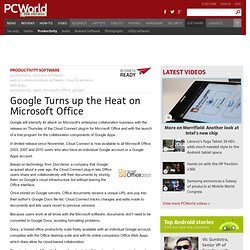 In limited release since November, Cloud Connect is now available to all Microsoft Office 2003, 2007 and 2010 users who also have an individual Google account or a Google Apps account. Based on technology from DocVerse, a company that Google acquired about a year ago, the Cloud Connect plug-in lets Office users share and collaboratively edit their documents by storing them on Google's cloud infrastructure but without leaving the Office interface. Simple Online Collaboration: Online File Storage, FTP Replacement, Team Workspaces. Sugarsync vs Dropbox the Show Down between Two Cloud Providers | YES Cloud Computing.
JustCloud :: Cloud Storage - Online Backup and Cloud Backup. Dropbox.
---