Cloud Storage
YouSendIt Desktop and Mobile Apps Bring Business Power to Cloud File Sharing ~ LockerGnome
"I wandered lonely as a cloud That floats on high o'er vales and hills, When all at once I saw a crowd, A host, of golden daffodils;" If Sir William Wordsworth was alive today, he would have thought twice before using the simile 'wandered lonely as a cloud'.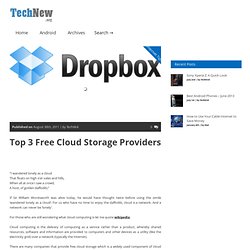 Top 3 Free Cloud Storage Providers | TechNew.org
Garg
Cloud storage provider Symform adds $1M, plans HQ move in Seattle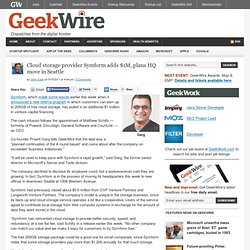 Cloud Computing Companies, Top Cloud Computing Companies, Best Cloud Computing Companies
Free Online Storage - The Best Free Online Storage Sites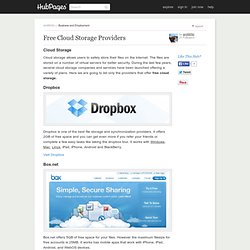 Cloud Storage
Free Cloud Storage Providers
Free Cloud Storage Providers - Get Cloud Storage for Free
I spoke to the ex-Microsofties, Parerit Garg and Bassam Tabbara, who founded Symform on a simple premise: the world's cheapest data storage is sitting unused inside your computer or on external USB disks. To get that free 100 GB, all you have to do is donate 150 GB of your unused disk space.
Free: 100GB of cloud storage!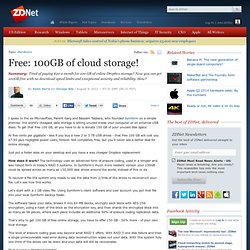 15 Cloud Storage Sites
If you're waiting around for Apple's rollout of iCloud, don't overlook the current offering of sites to store your content in the cloud. Here is a list of cloud storage sites.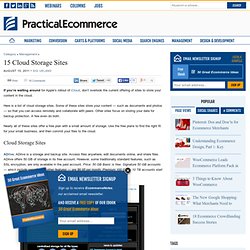 Being able to access your files from anywhere and from any computer is one of the great conveniences of the always-on Internet. Online file storage has been around for quite a while, but the latest generation of services are so cheap and easy to use that there is almost no reason not to back some of your files up into the cloud. Most online storage providers also give you the ability to then share these files with your friends and colleagues. We selected the services on this list because they have a good track record of keeping your data safe while providing you easy access to your files from wherever you are. Box.net Box.net has been around for quite a while, but is still one of our favorite places to store documents online.
Into the Cloud: Our 5 Favorite Online Storage Services
Nine Cloud Storage Providers - Data Storage
HOT TOPICS: Android Apple IT Management Networking Slide Shows More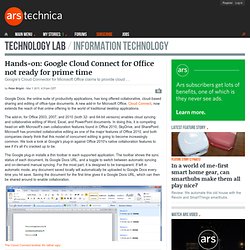 Hands-on: Google Cloud Connect for Office not ready for prime time
Google Docs, the online suite of productivity applications, has long offered collaborative, cloud-based sharing and editing of office-type documents.
Google will intensify its attack on Microsoft's enterprise collaboration business with the release on Thursday of the Cloud Connect plug-in for Microsoft Office and with the launch of a trial program for the collaboration components of Google Apps. In limited release since November, Cloud Connect is now available to all Microsoft Office 2003, 2007 and 2010 users who also have an individual Google account or a Google Apps account. Based on technology from DocVerse, a company that Google acquired about a year ago, the Cloud Connect plug-in lets Office users share and collaboratively edit their documents by storing them on Google's cloud infrastructure but without leaving the Office interface.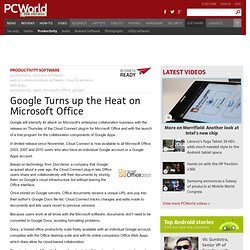 Google Turns up the Heat on Microsoft Office
Simple Online Collaboration: Online File Storage, FTP Replacement, Team Workspaces
Sugarsync vs Dropbox the Show Down between Two Cloud Providers | YES Cloud Computing