Pathfinder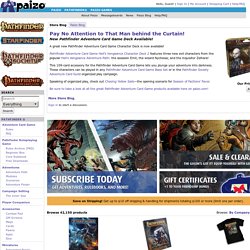 New Pathfinder Adventure Path now available! The world of the living and the dead clash in the latest Pathfinder Adventure Path volume! Some doors are better left closed, but in Pathfinder Adventure Path #80: "Empty Graves", they've been kicked wide open! The city of Wati, known for its enormous necropolis, is awash with priceless relics from the recently opened tombs, and the PCs are invited to attend an auction so that they may receive a premium for their finds.
Northwest Pathfinder Society
This is the forum for the Northwest Pathfinder Society, or NWPFS. We are the Pacific Northwest regional group of the Pathfinder Society, an international organized play campaign for the Pathfinder Roleplaying Game. This site is a place for players, GMs, and PFS officers to plan and discuss local events and game days as well as just chat about the game in general. If you do not currently have an account on this web site (whether because you are brand new or because you are coming here from our previous site), please read the "New Users" messages below.