Pen and Paper Roleplaying
MicroLite 20 | The Adventures Just Begun...
CthulhuTech
Tools Archive
GENZU.NET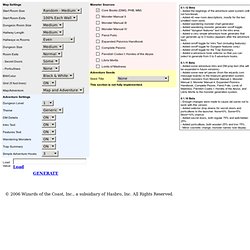 0.1.12 Beta - Added the beginings of the adventure seed system (still not functional). - Added 40 new room descriptions, mostly for the two smallest room sizes. - Added wandering monster chart generator. - Added wandering monster generator on/off toggle. - Added "dungeon features" text to the intro area. - Added a very simple adventure hook generator that can generate up to 5 hooks (appears after the adventure text). - Added on/off toggle for Intro Text (including features) - Added on/off toggle for Dungeon features (only) - Added on/off toggle for the Trap Summary. - Added a adventure hook selector so that you can select to generate from 0 to 5 adventure hooks.
Four Ugly Monsters : Your Games Now, Straight from the Source!
:: Storybook - A Game Master's Notebook ::
Byronic's ideas weren't numbered, so I'll call them 65 and 66. Here are quirks from my current character: 67) Will not discuss anything of importance with anyone who isn't a trusted ally -- and trust is very _ hard to gain. He also has #2: Incredibly paranoid. 68) Does not understand the concept of names. He'll call people by their titles, and give his own if they ask his name.
1001 Character Quirks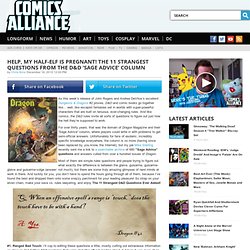 Help, My Half-Elf Is Pregnant! The 11 Strangest Questions From The D&D 'Sage Advice' Column
As this week's release of John Rogers and Andrea DeVitos's excellent Dungeons & Dragons #2 proves, D&D and comic books go together like... well, like escapist fantasies set in worlds with super-powerful characters that are built on tenuous, ever-changing rules. And like comics, the D&D rules invite all sorts of questions to figure out just how the hell they're supposed to work. For over thirty years, that was the domain of Dragon Magazine and their "Sage Advice" column, where players could write in with problems to get semi-official answers.
Tagged: check for traps
Check for Traps #1 - Starter Set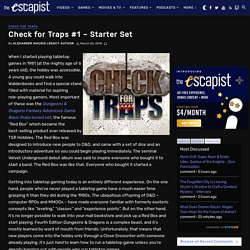 When I started playing tabletop games in 1981 (at the mighty age of 6 years old), the hobby was . A young guy could walk into Waldenbooks and find a special stand filled with material for aspiring role-playing gamers. Most important of these was the boxed set , the famous "Red Box" which became the best-selling product ever released by TSR Hobbies.
Yes, not much content this week. I'm writing a book, Josh is sick, things are busy, and I'm dealing with a lot of technical site performance issues. Also I might have snuck in a few minutes of videogaming. Like, I beat BioShock Infinite, which is NOT a short game by modern standards. I installed W3 Total Cache about a month ago. At first it was a miracle, but over the month the site seemed to slow down again.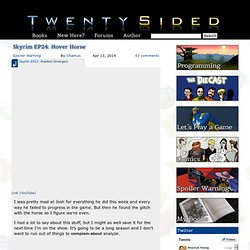 Twenty Sided - Uncool the new cool
Find Gaming Stores, Role Playing Group Finder, Role Playing Forums.