Pratique professionnelle du designer pédagogique
Une des premières consignes que nous avons données aux participants sur ITYPA fut d'ouvrir un blog.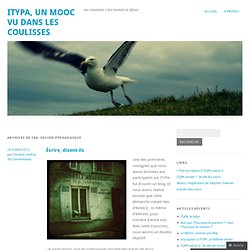 design pédagogique « ITyPA, un Mooc vu dans les coulisses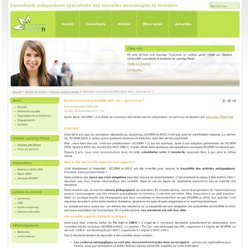 Après AICC, SCORM 1.2 et 2004, de nouveaux standards sont en préparation. Un point sur la situation par Sébastien FRAYSSE . 8 ans déjà !
Standards eLearning (SCORM, AICC, etc.) : où en est-on ?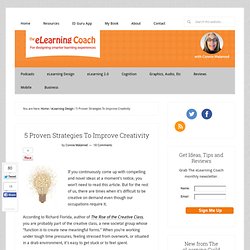 5 Proven Strategies To Improve Creativity
Sharebar
New eBook: 52 Tips On Best Practices for eLearning Development and Implementation by News Editor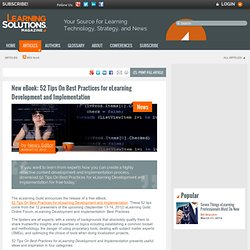 "If you want to learn from experts how you can create a highly effective content development and implementation process, download 52 Tips On Best Practices for eLearning Development and Implementation for free today."
"It is what we think we know already that often prevents us from learning." – Claude Bernard
Nuts and Bolts: Unlearning by Jane Bozarth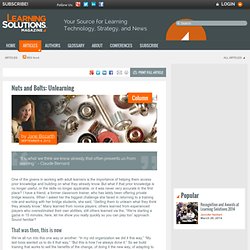 "Effective use of any tool is most typically the result of how it is used, not the fact that it is used.
Google+ Hangouts in Online Education: A Capable, Low-Cost Solution by Rebecca Bodrero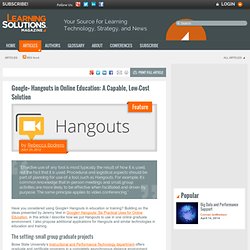 Marc My Words: Why I Hate Instructional Objectives by Marc J. Rosenberg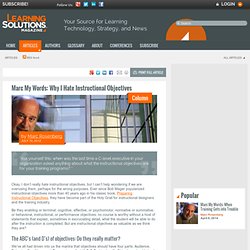 "Ask yourself this: when was the last time a C-level executive in your organization asked anything about what the instructional objectives are for your training programs?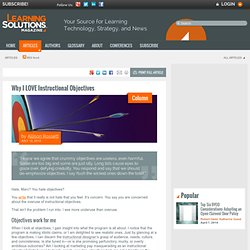 "I know we agree that crummy objectives are useless, even harmful. Some are too big and some are just silly.
Why I LOVE Instructional Objectives by Allison Rossett
Sharebar Nothing is worse than having your client find an obvious error in a program that's already been released. The troubleshooting, re-testing and scrambling to fix the problem can turn into a heart-pounding race against the clock.
Tips For Quality Control Of Online Learning: The eLearning Coach: Instructional Design and eLearning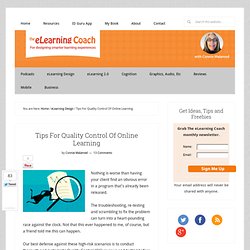 Graphics Primer: Color: The eLearning Coach: Instructional Design and eLearning
Sharebar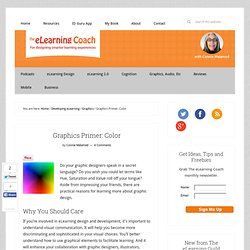 The Power Of Visual Grouping: The eLearning Coach: Instructional Design and eLearning
Sharebar In the very early stages of vision—before we're really conscious of it—our perceptual processes are humming away, attempting to organize the sensory data from our eyes into something that might be meaningful. Both the Gestalt psychologists and modern perceptual researchers realized that perception tends to organize information into wholes, rather than parts. For example, you're most likely grouping the orange shapes above into an arrow, rather than seeing them as separate elements.
eLearning Photography: How To Get The Best Shot: The eLearning Coach: Instructional Design and eLearning
Sharebar Do you have doubts about your photography skills, but need to take photos for instructional purposes?
No-More-Spilled-Ink-malamed.pdf (Objet application/pdf)
This is the first post in a triplet series on how to create effective discussions in an online learning environment.
How to get students to participate in Online Discussions…
Nuts and Bolts: Upskilling by Jane Bozarth
"It should have been part of our work all along to help the learners be better learners."
Marc My Words: Seven Questions eLearning Developers and Managers Should Answer … Every Time by Marc J. Rosenberg
"There are many important questions to ask in a good design process, but the value of these seven cannot be overstated. Often, you can answer many of these questions relatively quickly. They are all part of a project's up-front decision-making, and the more experience you develop over time, the faster you'll be able to move through them."
Revue du livre blanc 58 Tips for Breakthrough eLearning Instructional Design | AFI, centre de formation Québec et Montréal
Lost in Transmédia : conférences sur les nouvelles formes interactives de narration
Dr. Arnie Abrams | Handouts
Revealed: Shocking Secrets of a Storyboard Pro
A Symbiosis Between Instructional Systems Design and Project Management / Une symbiose de la conception de matériel pédagogique et de la gestion de projet | Pan | Canadian Journal of Learning and Technology / La revue canadienne de l'apprentissage et de l
Writing Multiple-Choice Questions for Higher-level Thinking by Mike Dickinson
How Much Narration in eLearning? Our Lessons Learned by Don Bair & Mike Dickinson
Nuts and Bolts: The 10-Minute Instructional Design Degree by Jane Bozarth
TEDxUdeM Montréal
Designing Learning for "When Things Go Wrong" by Michele Medved
BYOD Strategies
Formation à distance et design pédagogique
Standard industry classifications
Beginning Instructional Authoring: Learning How to Author by Patti Shank
Instructional Designer Jobs
Sites professionnels en design pédagogique
What Instructional Designers Do-Updated
De nouvelles façons de partager son expertise technopédagogique
Is your creativity blocked?
Freelance Instructional Design: More Tips from the Trenches