Pearltrees
This Pearltrees team is all about... Pearltrees. Story, development, ideas and more from the very beginning.
A tree of dew. The Web's third frontier. Everyone realizes that the web is entering a new phase in its development.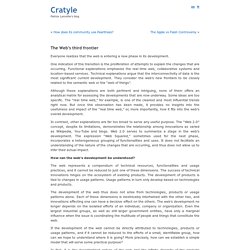 One indication of this transition is the proliferation of attempts to explain the changes that are occurring. Functional explanations emphasize the real time web, collaborative systems and location-based services. Technical explanations argue that the interconnectivity of data is the most significant current development. They consider the web's new frontiers to be closely related to the semantic web or the "web of things". Although these explanations are both pertinent and intriguing, none of them offers an analytical matrix for assessing the developments that are now underway.
Pearltres Beta. Pearltrees 1.0. Pearltrees 2.0. More stories.
---
sebcabeau Jun 25 2012

Bravo pour les nouvelles fonctionalitées photo et notes ! Félicitations pour ce site magnifique !

Patrice Sep 3 2010

Si, si tu peux, il suffit de clicker sur copier dans la fenêtre de la perle. Cela vaut aussi pour les pearltrees: tu peux faire des duplicats pour créer toute sort de chemin à l'intérieur de ton compte

flechoux Sep 3 2010

Hello, je viens seulement de remarquer qu'on ne pouvait pas perler un même contenu dans 2 pearltrees différentes... il serait bien de pouvoir...

luman Jul 24 2010

Je vous invite à vous connecter sur ma perle The Perlers of luman et suivre leclown. Très intéressant! Bonne journée à tous!

Patrice Jun 3 2010

En attendant, la version 0.7.1 vient d'être mise en ligne. Une mise à jour de la 0.7 qui t'intéressera j'espère! Tous les détails sont sur le blog

Patrice Jun 3 2010

Toujours... Il devrait d'ailleurs très bientôt sortir des cartons :-)

flechoux Jun 3 2010

Toujours dans les cartons le projet de Private Pearltrees? Je commence à réellement trouver le besoin pour l'outil mais ne peux pas tout y partager...

Patrice Dec 14 2009

you can shortcut to one of your pearltree (or even pearl) by making a copy of it in your own account -> see copy in the pearltrees' window

kae Dec 1 2009

im loving this app, but i would like a way of tagging a pearl within a pearltree (that ive grabbed from some else for example) so i can keep the pearltree 'as is' rather than dragging it away from the related pearls... (because i like what is in there but it might be buried beneath many layers... (tagging or shortcutting?) thanks

ratrace Nov 25 2009

OK, that's on a faster timescale than i dreamt of , thanks :-)
---