Sharing buttons
AddThis
Submission
AddThis offers a number of different APIs and SDKs, each with a specific purpose. Some of these APIs are client-side, and control how the AddThis sharing tools behave on your page. Others are server-side APIs that you can use for different types of integration between your site and the AddThis backend platform.
API overview
User Community • View forum - Developer Corner
Help - Flash Example Implementations
Overview To help you integrate AddThis into Flash, we've put together some ActionScript 3 reference sample code for you to download.
ShareThis
Submission
Developer FAQ
How do I use ShareThis APIs?
API Examples
Publishers FAQ
Introducing the ShareThis Stream
Today is one of those exciting days that you don't get to experience very often – the culmination of months worth of work, coming to a head. Everyone here at ShareThis has been anticipating this release for weeks, putting in extra hours in order to get ready for this moment: the launch of our newest product, the ShareThis Stream. We're extremely proud of our work on the ShareThis Stream and think it's going to be a valuable product for our users.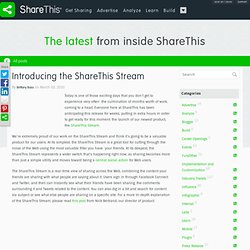 Topics Or Sources What's Trending now Pause Stream This Is What Happens When A Kid Leaves Traditional Education
Sharing Stream, Real-time Sharing, Trending Shares - ShareThis Stream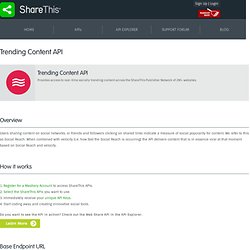 ShareKit : Drop-in Share Features for all iOS Apps