Sharing buttons
AddThis
Submission
AddThis offers a number of different APIs and SDKs, each with a specific purpose. Some of these APIs are client-side, and control how the AddThis sharing tools behave on your page. Others are server-side APIs that you can use for different types of integration between your site and the AddThis backend platform.
API overview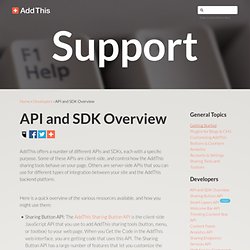 User Community • View forum - Developer Corner
Help - Flash Example Implementations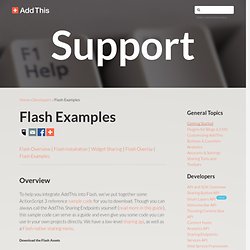 Overview
Web Application Bank
ShareThis
How can I submit a service to be added to the ShareThis widget? You can submit a services by filling out this form. How can I use the shar.es URL to see the underlying domain?
Submission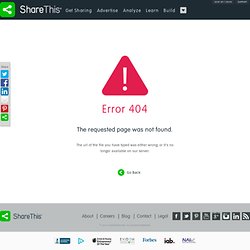 Developer FAQ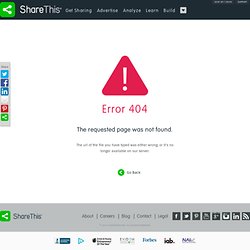 Welcome developers! We have lots of information for you to more fully customize your ShareThis integration. Please email us at support@sharethis.com or pubrelations@sharethis.com if there is something you want here..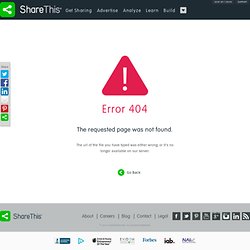 ShareThis supports an additional JavaScript API for developers that need more control over what is being shared. It provides programmatic control of display options and supports a function based interface. Use this when you need to override the default elements within share object properties such as:
How do I use ShareThis APIs?
ShareThis supports an additional JavaScript API for developers that need more control over what is being shared. It provides programmatic control of display options and supports a function based interface. Define Your Sharable Objects: Using the ShareThis API, it is easy to define the sharable objects. As an example, a website that sells products is able to define such detail as title, description, product image. When an item is shared, the recipient will be able to see all the details defined.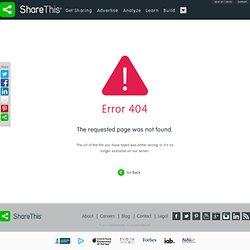 API Examples
Publishers FAQ Welcome to ShareThis publisher support. You can find our most popular questions here or in our forums . Please email support@sharethis.com if you can't find what you're looking for.
Publishers FAQ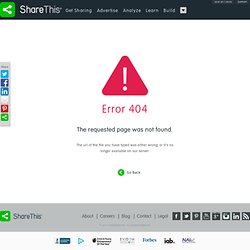 Introducing the ShareThis Stream
Today is one of those exciting days that you don't get to experience very often – the culmination of months worth of work, coming to a head. Everyone here at ShareThis has been anticipating this release for weeks, putting in extra hours in order to get ready for this moment: the launch of our newest product, the ShareThis Stream . We're extremely proud of our work on the ShareThis Stream and think it's going to be a valuable product for our users.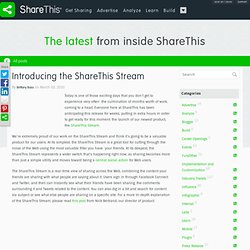 Sharing Stream, Real-time Sharing, Trending Shares - ShareThis Stream
ShareKit : Drop-in Share Features for all iOS Apps