Sharing buttons
AddThis - The #1 Bookmarking & Sharing Service. AddThis. Submission. API overview. AddThis offers a number of different APIs and SDKs, each with a specific purpose.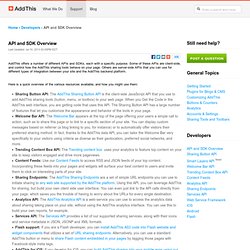 Some of these APIs are client-side, and control how the AddThis sharing tools behave on your page. Others are server-side APIs that you can use for different types of integration between your site and the AddThis backend platform. Here is a quick overview of the various resources available, and how you might use them: User Community • View forum - Developer Corner. Help - Flash Example Implementations. Overview To help you integrate AddThis into Flash, we've put together some ActionScript 3 reference sample code for you to download.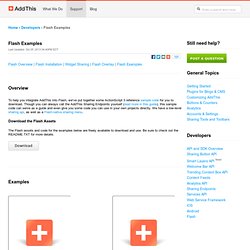 Though you can always call the AddThis Sharing Endpoints yourself (read more in this guide), this sample code can serve as a guide and even give you some code you can use in your own projects directly. We have a low-level sharing api, as well as a Flash-native sharing menu. Download the Flash Assets The Flash assets and code for the examples below are freely available to download and use. Free Web Toolbar. ShareThis. ShareThis. Submission. Developer FAQ. How do I use ShareThis APIs? API Examples. Publishers FAQ. Introducing the ShareThis Stream. Today is one of those exciting days that you don't get to experience very often – the culmination of months worth of work, coming to a head.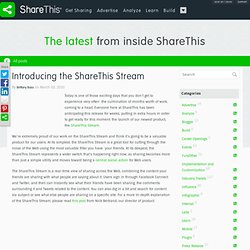 Everyone here at ShareThis has been anticipating this release for weeks, putting in extra hours in order to get ready for this moment: the launch of our newest product, the ShareThis Stream. We're extremely proud of our work on the ShareThis Stream and think it's going to be a valuable product for our users. Sharing Stream, Real-time Sharing, Trending Shares - ShareThis Stream. ShareKit : Drop-in Share Features for all iOS Apps.
---