Paper stuff
Decorative Paper Lanterns. The lanterns may look intricate, but it takes only half an hour to make one.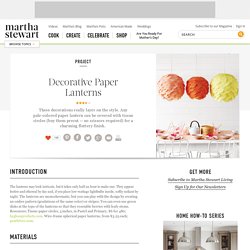 They appear festive and ethereal by day and, if you place low-wattage lightbulbs inside, softly radiant by night. The lanterns are monochromatic, but you can play with the design by creating an ombre pattern (gradations of the same color) or stripes. You can even use green disks at the tops of the lanterns so that they resemble berries with leafy stems.
Resources: Tissue-paper circles, 5 inches, in Pastel and Primary, $6 for 480; hyglossproducts.com. Wire-frame spherical paper lanterns, from $3.25 each; pearlriver.com. Origami 7 - Envelope. Craft DIY Projects, Patterns, How-tos, Fashion, Recipes @ Craftzine.com - Felting, Sewing, Knitting, Crocheting, Home & More. Quilling, the coiling and shaping of narrow paper strips to create a design, has been around for years — hundreds, in fact.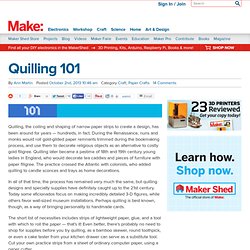 During the Renaissance, nuns and monks would roll gold-gilded paper remnants trimmed during the bookmaking process, and use them to decorate religious objects as an alternative to costly gold filigree. Quilling later became a pastime of 18th and 19th century young ladies in England, who would decorate tea caddies and pieces of furniture with paper filigree. The practice crossed the Atlantic with colonists, who added quilling to candle sconces and trays as home decorations. Crafting MacGyver: Circular Logic. Craft Tutorial | How to Instagram | Handmade Moccasins | Freshly Picked. Video. Crazy paper thing - StumbleUpon. Punched Out Font. This font is a set of cut-out layouts with which you can build 3D pixel style letters.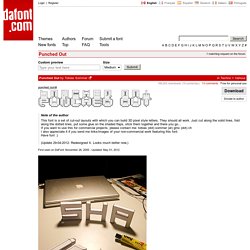 They should all work. Just cut along the solid lines, fold along the dotted lines, put some glue on the shaded flaps, stick them together and there you go... Papier-mache easter eggs. For Easter I made papier-mache polka dotted eggs.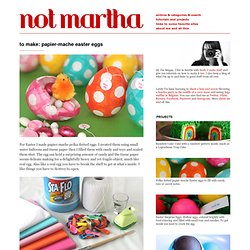 I created them using small water balloons and tissue paper then I filled them with candy and toys and sealed them shut. The egg can hold a surprising amount of candy and the tissue paper seems delicate making for a delightfully heavy and yet fragile object, much like real egg.
---