OccupyUSA Other Sources
ExposeOccupy. Soros: Collapsing US Economy to Spark Street Violence Posted on January 23, 2012 at 11:10 AM EST As the U.S. economy worsens, protests such as those carried out by the Occupy Wall Street movement will turn ugly, breaking down into waves of violent unrest across the nation, says billionaire financier George Soros.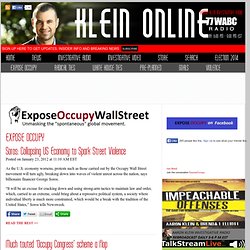 Walkupy. OccupyOurHomes. The People Occupy. Occupy The Banks. #OWS Scoop.it. We ARE the 99 Percenters ! In history, the FBI has infiltrated the mob, some 1% biker gangs, white Aryan resistance , KKK, Neo-Nazis, and more groups.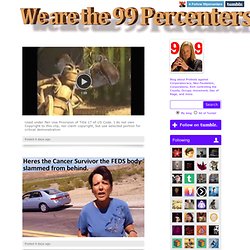 For the majority of these groups, arguably, there were actually bad people, many of them committing murder, selling drugs, in short, engaging in much of what legally would be called "malum in se" meaning, something like murder or child abuse, something that is wrong from a moral and ethical viewpoint. There are other classes of "crimes" which are called "malum prohibitum" meaning they are wrong solely because you have passed a law making them wrong. Making alcoholic beverages and selling them, became malum prohibitum with passage of the Volstead Act…even though, beer and wine had been made for centuries…and it was not illegal then, so, for a period of time, alcohol production, sale, distribution became malum prohibitum, but really, in the minds of most, it was never malum in se. I have been someone who generally has tried to not violate laws most of my life. Occupied Wall Street Journal. Occupy Law Enforcement. Occupy blogosphere. OCCUPY UNITED.
Occupy U.S. OccupyArrests. OccupyWiki.
OpESR. OccupyColleges. OccupyTheNation. TakeTheSquare. OCCUPYLive. OpESR. Why We Occupy. We Occupy with ♥.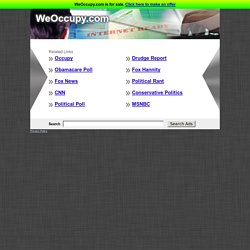 Occupy Together Occupy Streams NYC GA Feed JSON. Democracy Now. Robin Hood Tax. OWSnews.org. Anoncorpwatch. The Other 99. -Twitter- @Timcast @TheOther99 This channel is being maintained by The Other 99.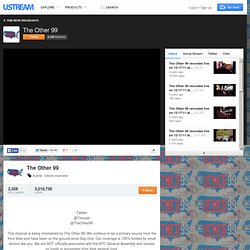 We continue to be a primary source from the front lines and have been on the ground since Day One. Our coverage is 100% funded by small donors like you. We are NOT officially associated with the NYC General Assembly and receive no funds or equipment from their general fund.
---