Forums et outils apparentés
Minigroup
Minigroup is a place where you can communicate with your teams, work together on projects, plan an event, and make sure Bob returns your red Swingline stapler. Minigroup will help keep your brilliant ideas and conversations about them all in one place. Keep your startup lean and on track with effective communications. Minigroup helps you organize fundraisers, keep your volunteers informed, and manage your internal communication, all from one place. Minigroup opens up new channels of communication between students and faculty members, and allows for rich discussion, beyond just words.
Prochaine rencontre : mardi 16 avril de 18h à 19h30 chez Inria, place d'Italie, Paris Bienvenue sur le site de la communauté francophone des utilisateurs et développeurs d'Elgg ! ElggFrance est organisé autour >> plus d'informations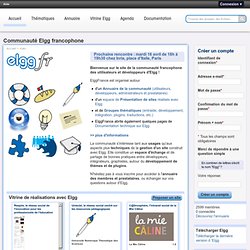 Elgg: fabriquer son propre réseau social 100% indépendant via l'Open Source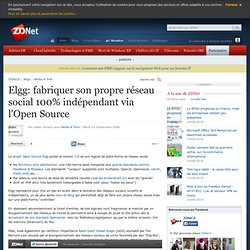 Le projet Open Source Elgg publié la version 1.0 de son logiciel de plate-forme de réseau social: les fonctions sont alléchantes: une très bonne base comparée aux grands standards comme Facebook & Myspace. Les standards '"sociaux" supportés sont multiples: OpenId, Opensocial, oAuth, FOAF, XFN, etc... Par ailleurs, une bonne de dose de similarité visuelle (voir les screenshots ici) avec les "grands". écrit en PHP donc très facilement hébergeable à faible coût (pour "tester les eaux") Elgg représente pour moi un pas en avant dans le domaine des réseaux sociaux ouverts et indépendants, un de plus après celui de Ning qui permettait déjà de faire son propre réseau social mais sur une plate-forme "contrôlée".